January 6, 2017
Weekly Round-Up: Top Leadership Insights, Be a Happier High Performer, Master Your Leadership, Change Anything, Mistakes to Leave Behind in 2017
Welcome to my weekly round-up of top leadership and communication blog posts. As many of you know, each week I read and tweet several great articles and on Fridays, I pull some of my favorites together here on my blog.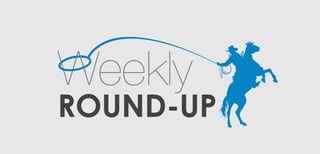 This week you'll read articles on top leadership insights coming out of 2016, ways to be a happier high performer, mastering your leadership short game, asking yourself if you really feel like you can change anything, and mistakes to leave behind in the new year. These articles will provide you with tips, strategies and thought-starters from many of the smart folks in my network. So whether you're a new leader or an industry veteran there'll be something here for you.
What were some of the top leadership articles you read this week?
—David Grossman
____________________________
Ever imagine how great it would be to have a wealth of leadership tips and strategies all compiled in one resource? Here it is.