Welcome to my weekly round-up of top leadership and communication blog posts. As many of you know, each week I read and tweet several great articles and on Fridays, I pull some of my favorites together here on my blog.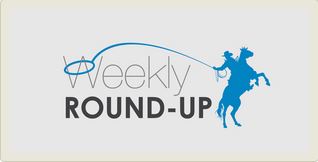 This week you'll see articles on the true impact of employee engagement on business performance, why email still reigns for engaging millennials and why happy employees are 12% more productive. These articles will provide you with tips, strategies and thought-starters from many of the smart folks in my network. So whether you're a new leader or an industry veteran there'll be something here for you.
Why Happy Employees Are 12% More Productive
By Jonha Revesencio (@jonharules), Fast Company
"Conventional wisdom holds that if only we pay workers enough, they'll be productive. There may be more to it, though. Recent research hints there's a link between employees' happiness and their productivity at work. Some companies…"
25 Especially Inspiring and Empowering Quotes from Today's Top Leaders
By Lolly Daskal (@LollyDaskal), Inc.
"You may have the best materials, the newest innovations, the most creative product --but those resources are meaningless without the core of your business: your employees. Poorly motivated and uninspired people can bring down even…"
Deepening the Workplace Bond
By Naphtali Hoff (@impactfulcoach), SmartBlog on Leadership
"One way for leaders to develop a strong bond with their people is to roll up their sleeves and get to work. Not just their own work, but the work of their direct reports, as well as their reports' reports…"
The True Impact of Employee Engagement on Business Performance
By Denise Cox (@denisecox), Communication World Magazine
"We know that organizations with more engaged employees produce better results on a number of levels. These "better results" not only relate to financial (higher revenue and profits), but also in people terms – less stress, less absence…"
Why Email Still Reigns for Engaging Millennials
By Shelly Kramer (@ShellyKramer), Ragan
"There are many myths and misconceptions about millennials, and quite a few are downright negative. They're entitled, they have been coddled by their helicopter-parents…"
What were some of the top leadership articles you read this week?
- David Grossman
___________
Get actionable leadership tips today! Download the free eBook, Tips, Tactics & Strategies for Your Leadership Toolbox, by clicking the image below.