March 17, 2017
Weekly Round-Up: Woman Leader's Secret Weapon, Leaders' Unique Energy Source, Everyone Fails, Productive Employee Formula, & Skills for the Future
Welcome to my weekly round-up of recent top leadership and communication blog posts. As many of you know, each week I read and tweet several great articles and on Fridays, I pull some of my favorites together here on my blog.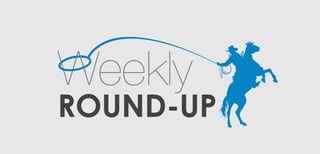 This week you'll read articles on how emotional intelligence is a woman leader's secret weapon, tapping into a leader's unique energy source, what you need to know if you tried and failed, why employees at Apple and Google are more productive, and skills for the future—surprise yourself.
These articles will provide you with tips, strategies and thought-starters from many of the smart folks in my network. So whether you're a new leader or an industry veteran there'll be something here for you.
What were some of the top leadership articles you read this week?
—David Grossman
---
There's no question that CEOs are under more communication pressure than ever before. Get this free ebook and unlock the secrets all CEOs need to drive the best bottom line—download today!