January 29, 2016
Weekly Round-Up: Tips to Improve Your Business for the New Year, How To Master Storytelling and Initiatives that Make Work More Fun
Welcome to my weekly round-up of top leadership and communication blog posts. As many of you know, each week I read and tweet several great articles and on Fridays, I pull some of my favorites together here on my blog.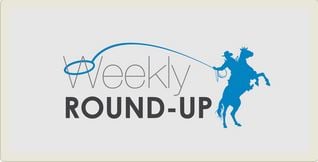 This week you'll read articles that offer helpful advice on ways you can transform your business for the new year, how to master storytelling and tips to help make work more fun and engaging for your employees. These articles will provide you with tips, strategies and thought-starters from many of the smart folks in my network. So whether you're a new leader or an industry veteran there'll be something here for you.
A Bold Prediction For The New Year
By Jon Picoult,(@jonpicoult), WaterRemarks from Watermark Consulting
"It's that time again, when all the customer experience gurus come out with their predictions for the coming year. So what customer experience trends do the gurus foresee this year…"
How to Transform Your Culture To Stay Ahead
By Skip Prichard,(@skipprichard), Skip Prichard: Leadership Insights
"In all of the organizations I have had the privilege to lead, I am always thinking and focusing on culture. Culture, to me, is important both at home and at work…"
3 Secrets to Finding and Keeping the Best Millennial Employees
By Tom McMullen,(@tommcmullen_hg), Chief Executive magazine
"Talent concerns are the number one issue top-of-mind for CEOs today, according to the Conference Board's 2015 CEO Challenges research and our daily conversations with clients…"
Ask The Expert: Five Books That Will Help You Master Storytelling
By Brian Roff,(@PropointGraphic), Forbes
"Propoint's resident raconteur, Brian Roff, sat down with Columbia professor and presentation consultant Jesse Scinto to discuss how to create and deliver great presentations…"
Here's How Your Boss Can Make Work More Fun
By Colm Delves,(@FortuneMagazine), Fortune Magazine
"Building trust in any relationship is no easy feat. For business leaders, the responsibility of doing so throughout an entire organization can be especially complex…"
What were some of the top leadership articles you read this week?
- David Grossman
___________
Download our free tip sheet, the 10 Dos and Don'ts of Email, and get the steps you need to take back control of email in your organization. Click below to download today.