April 18, 2016
Winning Presentations: Let's Have a Conversation
Let's Have A Conversation.
One of the things I enjoy most about speaking engagements is the chance to connect with different groups of people and hear what's on their minds. Beyond the work we do with our clients, these presentations and the corresponding dialogue help me stay close to the challenges and opportunities in business today. I'm always learning, and excited to hear about new and different strategies to help leaders and their organizations improve communication, engagement, and, subsequently, business results.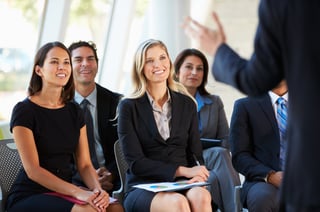 Whatever the venue or purpose, I enjoy involving the audience in a conversation on the given topic—leading a dialogue rather than delivering a speech. I find that engaging people in sharing their experiences and insights:
Creates a positive energy in the room
Engenders a sense of community and a feeling that in most cases, we all have similar challenges (we're not alone)
Provides fantastic learning and teaching moments that extend well beyond the meeting
Is more enjoyable for everyone involved
Here are 5 winning strategies to turn your next presentation into a great dialogue:
1. Your mindset matters.
Think: your goal is to create and facilitate dialogue, not to make a presentation.
2. Understand the audience.
Who will be in the room and what is their level of knowledge on your topic? Consider the demographic mix, the level of experience and the audience's mindset. Put yourself in their place and consider how to present your material in a way that will resonate with them and where they're coming from. Adjust your content accordingly.
3. Energize with participation.
In a larger audience, engage the group by asking for a show of hands at various points and invite people to share their examples to illustrate key concepts being presented. Consider involving audience members in an appropriate game or demonstration to highlight a key point in an energizing way. And don't forget those who may be participating by phone or Web conference!
4. Ask for input.
Plan to ask open-ended questions at critical junctures to check for understanding and gather information. For internal meetings with colleagues or leaders who may have insight into a challenge you face, ask for perspective on crucial issues or to test key messages.
Simplify and summarize. In a world where everyone is juggling volumes of information every day, less is definitely more when it comes to presenting concepts and ideas. Chances are, your slides have way too much content—most of which is not necessary. Consider using simple, memorable ways to package key concepts (try a visual to make your point) and then amplify your point with real-life examples.
5. Handouts facilitate learning.
We typically provide handouts of my PowerPoint slides to allow participants to take notes, which helps many leaders process and retain information. It also provides a way to share the information covered with others who weren't able to participate.


How can you turn your next presentation into an interactive dialogue?
- David Grossman
_________________
Get the skinny on what it takes to create an organization with engaged employees. Download, Improve Your Workplace Diet, by clicking the image below.