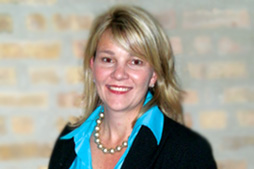 Kate Bushnell
President & Senior thoughtpartner™
Kate is President of The Grossman Group and leads the team of thoughtpartners™ to deliver innovative and strategic communication solutions for clients that address their everyday and defining business challenges. She works with leaders across a variety of functions and industries, including Astellas, Health Quest, Hillrom, Intuitive Surgical, Johnson & Johnson, Kimberly-Clark, Lockheed Martin, MARS Incorporated, McDonald's, Microsoft, Motel 6, NYU Langone Health, The Hartford, and Wyndham, among others.
Having served on the corporate and agency side, Kate applies her breadth of experience in corporate communications — which includes employee communications, leadership communications, public relations, issues communications, and research — to offer clients trusted, proven counsel and shape and implement strategic solutions that accelerate results.
Over the years, Kate has counseled leaders from Communications, HR, Learning and Development, Supply Chain, Operations, Community Relations, Compliance, and more. She's helped leaders tackle pressing challenges affecting their teams and organizations, including:
Elevating the communication capability of leaders through training and coaching. For one global health care company, her leader communications workshop is rated the #2 highest Net Promoter scores of all its leadership development courses worldwide

Leading employees through significant change

Engaging employees as brand champions and to deliver on business goals and strategic priorities

Establishing strategic messaging for leaders and organizations

Building Communication functions to drive greater value for the organization

Measuring the effectiveness of communications inside organizations

Building and communicating business cases to guide leadership decisions

Communicating tough news, including issues
Kate's work has been recognized by clients and the communication industry. Her contributions helped The Grossman Group win the prestigious PRWeek Boutique Agency of the Year and Product of the Year by SABRE for the firm's messagemap™ methodology. She has helped companies like McDonald's, Lockheed Martin, Gerber and Pillsbury win prestigious awards for their communications, including PRSA Silver Anvil for Program of the Year, PRSA Bronze Anvil for Research, International Public Relations Association Golden World Award, and IABC Silver Quill.
Before joining The Grossman Group, Kate worked for Golin in both its employee communications and public relations groups. There she helped global consumer and healthcare companies drive change, strengthen their brands, manage issues, improve employee communications and elevate executive visibility internally and externally. She also worked in corporate communications for National Semiconductor Corporation and ACCO Brands, then a Fortune Brands company.
Kate holds a bachelor's degree in Communication/Journalism with honors from Santa Clara University in Santa Clara, Calif., and a Master's in Science degree in Communications from Northwestern University's School of Communication/Management Program.
She speaks regularly at industry conferences and has taught at Columbia College Chicago in the Marketing Communications department. She also regularly guest lectures for the Colleges of Communication at Marquette University and Santa Clara University.