June 29, 2022
"Heart First" Wins Gold Quill Award of Excellence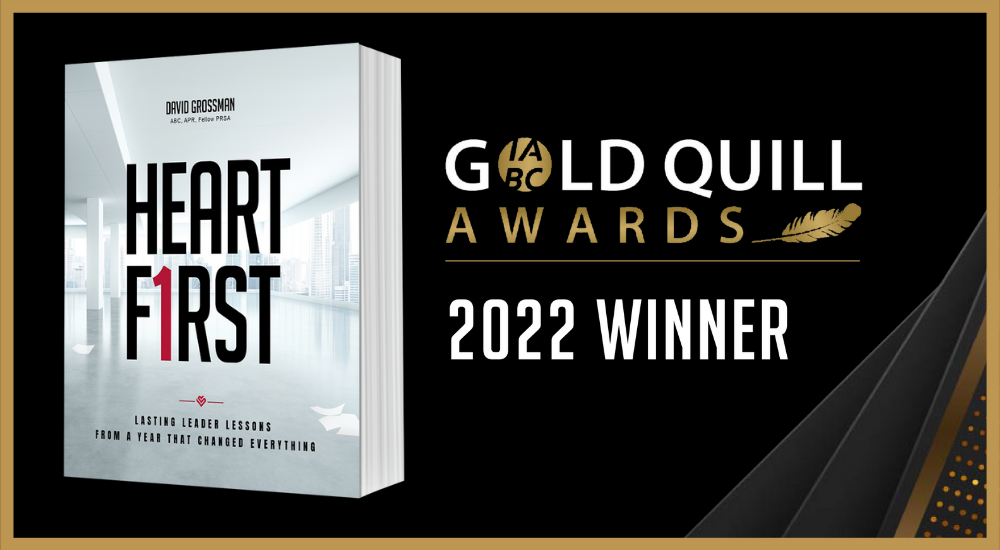 I am incredibly honored that my latest book, Heart First: Lasting Leader Lessons from a Year that Changed Everything, has been recognized by the International Association of Business Communicators (IABC) for worldwide Excellence in Communications in the publications category. This prestigious award is the fifth honor the book has received since its publication in August 2021 and serves as a testament to the power, relevance and timeliness of the principles of Heart First Leadership.
How to Lead with Heart
As many of you know, we believe the answer to many of the challenges facing the workplace today lies in Heart First Leadership, which is all about championing empathy, humanity and authenticity in the workplace to build stronger, more trusting relationships.
The lessons in this book have resonated with thousands of leaders who have sought out a new approach to leadership. Now more than ever, leaders play a pivotal role in connecting, engaging and inspiring their teams.
The chapters in Heart First provide clear direction on how to be the very best leader and communicator possible:
Lead Yourself First

This means understanding the importance of self-care as a leader so you can bring your best self to work. The key here is to manage your own stress level and build coping skills to combat change fatigue, and then role model that desired behavior for your teams.

Know Your Audience and Their Needs

Commit to putting in the work necessary in order to understand your audience and their needs, and balance that with the needs of the business. By listening intently to employees, you are able to better help them prioritize what matters and work as productively and efficiently as possible.

Show Your Human Side

As shared before, Heart First Leadership is about bringing empathy, humanity and authenticity into your organization and demonstrating a genuine desire to build connections. This helps show your human side to your team and reinforces that everyone has failings and that we all need to grow and learn from them.

Communicate the Right Messages at the Right Times

Leaders should focus on high-visibility, high-frequency communications, setting detailed communication plans that allow for regular authentic and candid conversations with employees and ensuring a smart cadence or rhythm to meet the needs of the team and business.

Frame the Context and Make it Relevant

Bring your communications leaders to the table early when key business decisions are being made. They can ensure the top questions and concerns on employees' minds are factored in as policies are shaped.

Talk Openly About What's Happening

Find ways to break through change fatigue and information overload to truly engage and make sure everyone understands what's happening within the organization, what it means for employees and where the organization is headed.

Use the Right Channels to Communicate with Impact

The right message, delivered at the right time, via the right channels, goes a long way toward building community and engagement. Leaders have a wide range of options for communication channels today, and the list of channels keeps growing. With more options to choose from, leaders need to ensure channels are selected strategically so employees aren't victims of information overload.

Be Ready to Answer Questions

The most important thing to understand is that it is best to answer the question directly. We've all heard non-answers and know what that feels like when we are on the receiving end of a pivoting explanation or vernacular-heavy babble meant to obfuscate. Your employees know a "spin" when they hear one, and your credibility could be on the line depending on how you answer.

Be Respectfully Authentic

As a leader, you set the tone from the top for the kind of culture you're building. You have the power to create a psychologically safe environment where people feel welcome to take risks and speak their truths. In sharing your story in a respectfully authentic way, you can learn to appreciate the importance of employees feeling free to share their stories as well, so they can experience a stronger sense of belonging, acceptance and purpose in their work.
The bottom line is: We need more humanity in the workplace today, and there are concrete actions leaders can take right away to turn worry and fear into defining moments that can bring employees together in the best possible ways, and lift them up.
Helping You and Your Team Lead with Heart
Our workplaces need this type of inspired leadership, now more than ever, and I want to help those committed to making the workplace better.
As a way to give back, I'd like to help you pay it forward. Through our Great Giveback Giveaway, which has put books in the hands of more than 5,000 leaders, you can get copies of Heart First for you and your team at no cost, by visiting this link.
Which principle or two, if adopted today, would improve your effectiveness as a leader?
—David Grossman
---
We'll provide you, members of your team, and/or a leader you think will benefit with a copy (it's on us!). Click below to select your option and submit your book order today!