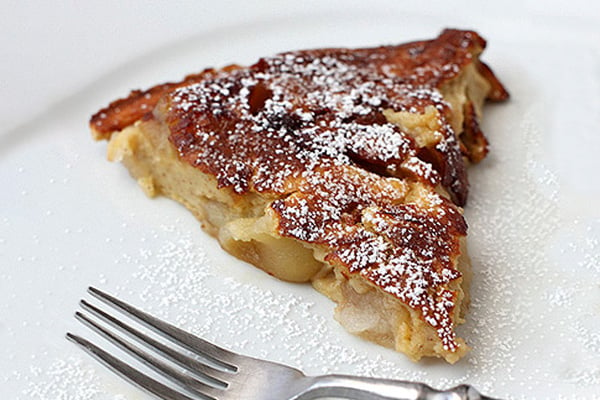 Apple Pancakes
Pretty-yet-easy pancakes for a special breakfast. The cinnamony apples make them taste as wonderful as hot apple pie.
Ingredients:
1/4 cup butter (½ stick), divided
4 eggs
1/4 teaspoon pure vanilla extract
3/4 cup all-purpose flour
3/4 cup milk
1/2 teaspoon salt
2 medium baking apples, peeled and thinly sliced
3 tablespoons Grandma Elsie's Famous Spices
Directions:
Preheat oven to 400 degrees.
Divide butter evenly between two 9-inch pie plates and put them in the oven to melt the butter. Rotate the pie plates until the butter coats the bottom and the sides. To make dividing the ingredients between the two plates easier, we use a 4-cup measuring cup as our mixing bowl.
Beat eggs, pure vanilla extract, flour, milk and salt on medium speed for 1 minute.
Toss the sliced apples with 2 tablespoons of Grandma Elsie's Famous Spices.
Arrange ½ of the apples slices in each pan so they cover the bottom in pretty much a single layer.
Pour half the egg mixture over the apple slices in each pan.
Sprinkle the remaining Grandma Elsie's Famous Spices over the batter in each pan.
Bake 20-25 minutes until puffed and golden brown.
Serve right away, while still puffy, with warm syrup.
From Grandma Elsie's West Coast Test Kitchen
Brad Whitworth and Peg Champion