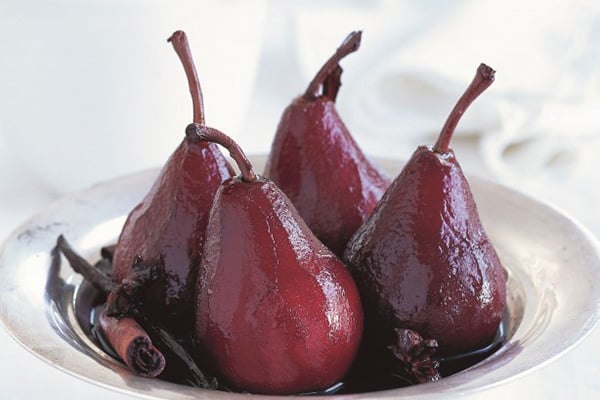 Grandma Elsie's Elegant Poached Pears with Spiced Red‑Wine Syrup
Time: 1 hour 30 minutes. Serves Four to Six.
Ingredients:
2 1/2 cups dry red wine (a good* Cabernet, Merlot, Zinfandel)
3/4 cup organic brown sugar
1 tablespoon Grandma Elsie's Famous Spices
Zest of 1 orange
1 orange, juiced
1 cinnamon stick
1 vanilla bean, split lengthwise
2 cloves
4 firm, ripe pears (Bosc are preferred, though Conference and Anjou also work well)
Directions:
In a 4-quart saucepan, combine wine, brown sugar, Grandma Elsie's Famous Spices, orange zest, orange juice, cinnamon stick, vanilla bean and cloves. Bring to a boil, reduce heat and simmer for 5 minutes until the sugar dissolves. While liquid is simmering, carefully peel pears leaving stem intact. Slice ½ inch off the bottom of each pear to create a flat bottom. Gently place pears in poaching liquid, cover, and simmer for 15 to 20 minutes, turning every 5 minutes to ensure even color. Check to make sure pears are cooked tender but not mushy. (Insert the tip of a paring knife into the pear bottom. It should go in and come out easily with no resistance.) Use a slotted spoon to place pears upright on a serving plate or in individual bowls. Chill at least three hours or up to 24 hours.
Increase the heat of poaching liquid to high and bring to a boil. Boil uncovered for 5-10 minutes, stirring occasionally with a whisk until the syrup thickens. Remove from heat and chill until ready to serve. The sauce will continue to thicken as it cools.
To Serve:
Bring pears and syrup to room temperature or warm slightly. Serve pear with scoop of vanilla ice cream and drizzle syrup over pear and ice cream.
* If you can't find Santini organic, you can use Eagle or Borden. If you can't find Dagoba, you can use any bittersweet baking chocolate with 65% or higher cacao.
From Grandma Elsie's West Coast Test Kitchen
Brad Whitworth and Peg Champion