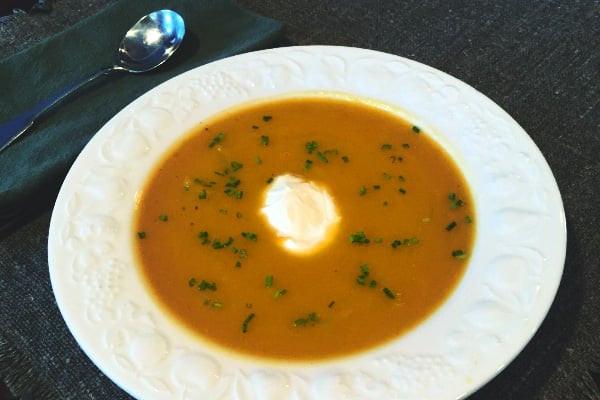 Grandma Elsie's Butternut Squash Soup
Time: 1 hour 30 minutes. Serves Four to Six.
Ingredients:
1 large organic butternut squash
2 cloves garlic, peeled and smashed
4 sage leaves
2 tablespoons butter
1 large yellow organic onion, roughly chopped (about 1 - 1 1/2 cups)
4 cups vegetable or chicken stock or broth, preferably homemade
1 tablespoon apple cider vinegar
1 teaspoon Grandma Elsie's Famous Spices (or 1 teaspoon of 2 3/4 teaspoons sugar, dash cinnamon, pinch ginger, pinch nutmeg, pinch salt)
1/8 teaspoon cayenne pepper
1/2 teaspoon kosher salt
1/8 teaspoon nutmeg
Crème fraiche
Chives, finely chopped
Directions:
Preheat oven to 400 degrees. Cut butternut squash in half lengthwise. Scoop out seeds and fill the cavities with the garlic cloves and sage leaves. Place the two squash halves, cut side up, in an ovenproof dish. Add one-half inch of water to prevent the squash from burning or sticking to the dish. Bake for about 45 minutes, or until completely tender. Allow to cool. Discard the garlic and sage. Scoop out the cooked squash and set aside.
Heat a large thick-bottomed pot on medium-high heat. Melt the butter in the pot. Add the onion, celery and carrot and sauté for 5 minutes or until softened, but not browned.
Add the cooked butternut squash, stock, vinegar, Elsie's Famous Spices, cayenne pepper, salt and nutmeg. Bring to a boil, then reduce to a simmer. Cover and simmer for 30 minutes.
Use an immersion blender to purée the soup or, alternatively, work in small batches and purée the soup in a standing blender.
Serve in soup bowl and garnish with a dollop of crème fraiche and chopped chives.
From Grandma Elsie's West Coast Test Kitchen
Brad Whitworth and Peg Champion