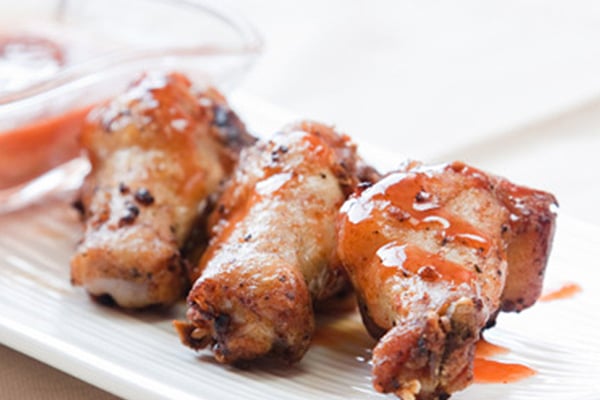 Grandma Elsie's Caribbean Jerk Chicken
Time: 1 hour 15 minutes plus at least 6 hours marinating
Serves Six
Ingredients:
2 tablespoons allspice berries
1 tablespoon thyme leaves
2 garlic cloves
1 small onion, chopped
2 Scotch bonnet or habanero chiles, halved, stems removed (*Caution: These peppers are very hot, use to taste)
6 scallions, roughly chopped
1 tablespoon black peppercorns
3 tablespoons Grandma Elsie's Famous Spices (2 tablespoons + 2 3/4 teaspoons sugar, 1/4 teaspoon cinnamon, pinch powdered ginger, pinch nutmeg, pinch salt)
2 tablespoons soy sauce
2 tablespoons olive oil
1 tablespoon rum
1 tablespoon malt vinegar
1 teaspoon kosher salt
1 2-inch piece fresh ginger, thickly sliced
Juice of two large limes (about 4 tablespoons)
6 large chicken legs (skin-on, leg and thigh attached)
Directions:
Put allspice, thyme, garlic, onion, chiles, scallions, peppercorns, Grandma Elsie's (or sugar, cinnamon, powdered ginger, nutmeg, salt) plus soy sauce, olive oil, rum, malt vinegar, salt, fresh ginger and lime juice in a blender or food processor and puree into a marinade.
Put chicken and marinade into two sealable plastic bags, pressing out excess air, then turn bags over several times to distribute marinade. Put bags of chicken in a shallow pan and marinate in refrigerator for at least six hours, preferably overnight, turning once or twice.
Cook on outdoor grill, turning frequently, until internal temp reaches 160 degrees and outside is slightly charred.
Alternatively, put chicken in a baking dish, add seasoning paste and coat chicken well, using a spoon. Cover and marinate in the refrigerator, for at least 6 hours, preferably overnight. Preheat oven to 350 degrees, letting chicken come to room temperature. Bake in oven at 350 degrees uncovered for one hour, until internal temp reaches 160 degrees. Then put dish under broiler for a couple of minutes to char chicken slightly.
From Grandma Elsie's West Coast Test Kitchen
Brad Whitworth and Peg Champion