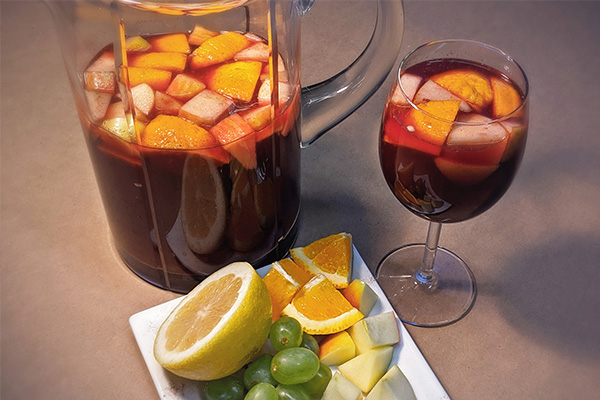 Grandma Elsie's Holiday Sangria
Looking for a festive way to entertain during the holiday season (or anytime during the year)? Try this easy-to-make recipe that delivers just the right amount of sweetness, fresh fruit and baking spices to brighten any gathering of friends or family. It's the addition of Grandma Elsie's spice mix that gives the sangria a holiday twist. You can even make it ahead of time – adding the sparkling water and ice just before serving.
Ingredients:
½ medium apple, cut into ½-inch pieces with skin attached
½ medium orange, cut into ½-inch pieces with skin attached
1 small bunch seedless table grapes
¾ cup orange juice
1/3 cup of brandy
1 Tbsp Grandma Elsie's spice mix
Juice from one-half lemon
1 750ml bottle of dry Spanish red wine (Tempranillo or other wine from Rioja)
1 cup of sparkling water
3 cups of cubed ice
Directions:
Put fruit, orange juice and brandy in a pitcher and muddle the ingredients.
Add Grandma Elsie's spice mix, lemon juice, red wine, sparkling water and ice to the pitcher and stir to combine ingredients.
Pour into glasses and make sure to spoon a variety of fruit into each glass.
Variations on a theme:
Grandma Elsie would never want you to get stuck in a rut. Here are some ways you can modify the recipe to take advantage of ingredients you have on hand:
Try using rum or triple sec instead of brandy. Rum will make the sangria sweeter.
Replace the sparkling water with club soda or sparkling wine.
Consider other fruits you may have on hand: pears, kiwis, or frozen blackberries or cherries.
Use lime juice instead of lemon juice to add a bit more tropical tartness.
From Grandma Elsie's West Coast Test Kitchen
Brad Whitworth and Peg Champion