Free Tip Sheet
10 Tips for Guiding Culture Change
Download Now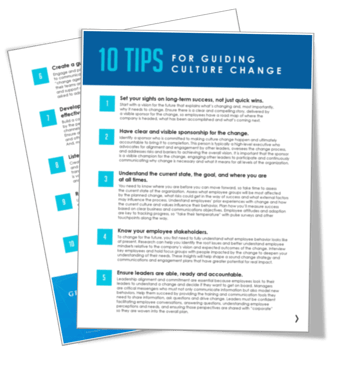 With so many changes happening in a short time stemming from the COVID-19 pandemic and social crises, return to work, economic challenges and turnover, employers face important decisions on how to go forward in managing their teams and adapting for today's realities. As you define new ways of working – and the culture to support them – know this: Organizations with effective change and communication are oftentimes more likely to outperform their peers.
Your team needs a cultural reset, but how? Use the free 10 Tips for Guiding Culture Change tip sheet to help you.
This two-page guide covers 10 tips, each with a brief description on how to get there.
Some of these tips include:
Set your sights on long-term success, not just quick wins
Ensure leaders are able, ready, and accountable
Create a guiding coalition of "change agents"
Develop and deliver communications through the most effective channels
Listen carefully and respond religiously
More!
Download 10 Tips for Guiding Culture Change by filling out the form and help set your organization's culture change up for success.