Free eBook
The Leader Differential: Five Steps to Thrive (Not Just Survive)
Download Now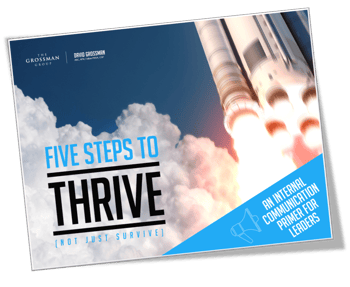 This sought-after eBook, and internal communications primer for leaders, offers insights on the kinds of strategies that can rebuild an organization's culture and produce exciting business results.
Because of changes such as increased globalization, changing workforce demographics, an increase in virtual employees, technological and digital advances, and more, employees are more skeptical – and in some cases – more wounded than ever before.
It's with that in mind that 5 Steps to Thrive comes in. In the latest edition, readers will find new and improved content on the five steps needed to propel your company, agency or team onto the next level, including:
Get a Mirror: Advice for role modeling the behavior you want to see in your employees
Plan Your Communication: Tips for being more strategic in your planning and communication
Listen: Guidance on how to really listen to what your employees are telling you
Control the message: A primer for how to control the communication in a good way
Think about the benefits: Thoughts on how your communication can truly benefit the overall culture inside the organization
Download—The Leader Differential: 5 Steps to Thrive; an Internal Communications Primer for Leaders—by filling out the form.