In today's era of leadership in a fast-paced business environment, respectful authenticity has never been more important, especially as high-profile business and ethics scandals fill the news.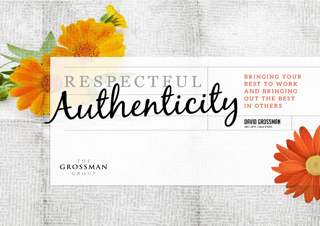 While the concept of authenticity has been around for a long time, I've added the word respectful to help distinguish it as a powerful tool in the workplace, and to eliminate the downsides that can come with using authenticity as an excuse to be painfully blunt, rude or closed off to different points of view. At its core, respectful authenticity is about being true to yourself and acting in ways that are consistent with your values. In this eBook, I'll address how to be more authentic, and will share some proven tools to help others get to know you better. You'll notice my thoughts in this eBook are a little more personal than you might typically read.
Because, as you'll see from my story, Respectful Authenticity is—in the end—hugely personal.
In it, I provide the steps in the journey to respectful authenticity and show you how every person can benefit from being more authentic today.
These steps include:
What respectful authenticity means

Why it matters and why it's so important today

How to start on the path to respectful authenticity

Three components of respectful authenticity and how to achieve them

Three important things to take with you on your journey

The high value of being authentic
Authenticity isn't a skill. Instead, it's an approach leaders can take to lead a more fulfilling life by accentuating their talents and acknowledging and addressing their flaws, whether it's on the job, in relationships, or at home.
Download—Respectful Authenticity: Bringing Your Best to Work and Bringing Out the Best in Others—and start your journey to becoming a more authentic leader today.