Free Template
Change Communications Action Plan
Download Now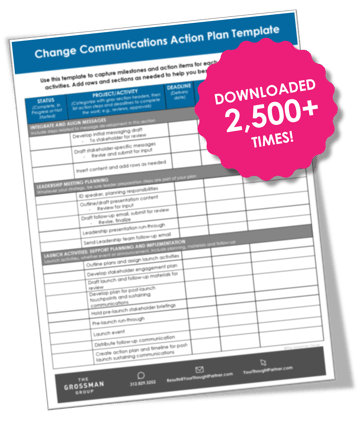 Your organization is going through a period of change. You know it's a good thing, but do your employees? How you communicate what to expect and how it affects each individual goes a long way towards whether they buy in or disengage. To support the success of your change efforts, develop your Change Communications Plan with this free template.
A change communications action plan is a game plan outlining specific activities and timing for executing tactics in the change communications plan.
This easy-to-use Word document template makes it simple to detail deadlines, capture milestones, and communicate action items for each of your key project activities. It's designed to help you develop your change communications action plan and align it with tactics that'll drive results. It covers key steps needed to effectively communicate change, including:
Integrating and aligning messages
Leadership planning
Support planning
Implementation
More!
Download, edit, and use the FREE Change Communications Action Plan Template today by filling out the form.