Free Template
Change Communication Measurement Dashboard
Download Now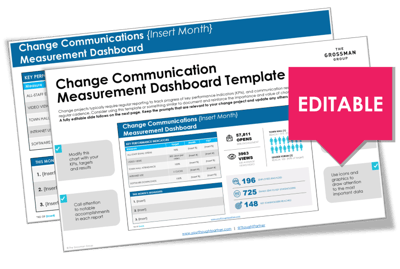 Change management projects typically require regular reporting to measure the progress of key performance indicators. Communication results should be a part of this regular cadence.
It is fundamental to your success to track your efforts during change. Use this Change Communications Measurement Dashboard Template to document and reinforce the importance and value of your change communication activities.
Get a fully editable PowerPoint template to regularly report on change communication measures such as:
Employee engagement
Participation in key events
Feedback received
Key stakeholders reached
Emails opened/clicked
And more!
Download your FREE Change Communication Measurement Dashboard Template today by filling out the form.