Free Survey Summary Report
Working During COVID-19: U.S. Employees Embracing Remote Work
Download Now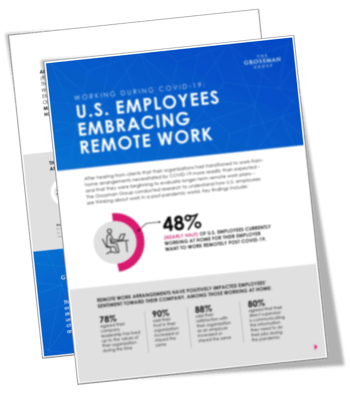 For decades, the privilege of working from home has been largely reserved for elite, white-collar workers. In a matter of weeks, the COVID-19 crisis has forced millions more American workers into remote work.
After hearing from clients that their organizations had transitioned to work-from home arrangements necessitated by COVID-19 more readily than expected – and that they were beginning to evaluate longer-term remote work plans – we conducted research to understand how U.S. employees are thinking about work in a post-pandemic world.
According to our study, 48% of employees working from home now say they'd like to continue working from home.
Clearly, employee work preferences still differ and working from home is not for everyone – either because employees simply cannot do their jobs remotely or would prefer not to. Still, the survey findings are a clear signal to employers that employee preferences are rapidly evolving and that it's time to rethink traditional ways of working.
To get the Working During COVID-19: U.S. Employees Embracing Remote Work summary report, fill out the form.