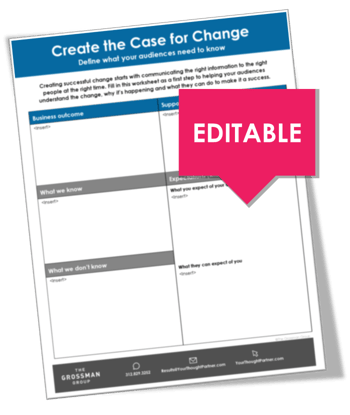 People naturally have a fear of change, especially in the workplace. That doesn't make change a bad thing, but it does mean it's essential to communicate what's changing and why with your employees to bring them along on the journey.
Change is hard for organizations, for the people asked to change and for the leaders and communicators who deliver on change.
We're here to make it easier. Creating successful change starts with communicating the right information to the right people at the right time. Use this fully editable Word document worksheet as a first step to map out what your audiences need to know to understand the change, why it's happening, and what they can do to make it a success.
This worksheet will help you map out the following details:
Business outcome
What facts support why the change is needed
What you already know and what are you still working on finding out
Expectations of your employees
Fill out the form to download your FREE Create the Case for Change Worksheet today.