Free Ebook
7 Critical Traits for Building Trust Inside Companies
Download Now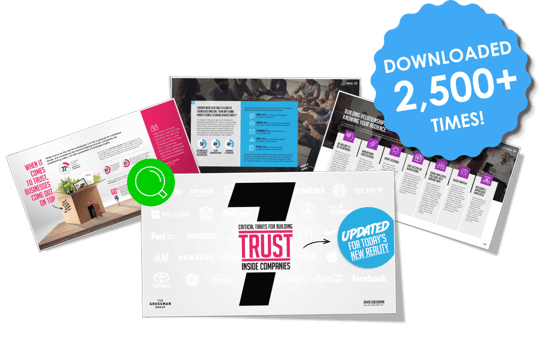 What do low employee engagement, people leaving their jobs, a fear of change, and employee burnout all have in common? All of these can often be traced back to a lack of one key ingredient in work culture – trust in leadership.  
This free eBook provides up-to-date data and examines the trust problem and a go-to playbook for how to build a powerful new level of trust within your culture. 
Get key traits leaders should focus on to shore up trust, along with actionable advice on a myriad of trust-related topics, including:
How to act in more authentic ways, consistent with the purpose and values of the company  
Guidance for how to be a more transparent leader  
Tips for better listening to employee needs and wants 
The best ways to become a better, more engaging communicator 
How to build a stronger sense of community and culture that your employees genuinely appreciate, respect, and even brag about  
Thoughts on how you can establish your leadership team as a genuinely trusted, respected voice within your organization  
See how building more trust in your organization will lead to better business outcomes. Download 7 Critical Traits for Building Trust Inside Companies today by filling out the form.