Free eBook
Going Slow to Go Fast: Making Internal Communication Work for You
Download Now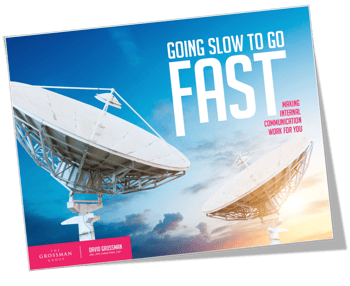 This eBook remains a go-to resource for communicators who want to build a strategic, streamlined, and effective internal communication plan that speaks directly to the number-one question on business leaders' minds: How will this improve our bottom line?
It addresses why communication is essential, how to break through and avoid communication clutter and covers the key steps to developing a communication plan.
Good internal communication gets the message out, but great internal communication helps employees connect the dots between overarching business strategy and their role. When it's good, it informs; when it's great, it engages employees and moves them to action. Quite simply, it helps people and organizations be even better.
In the latest edition of Going Slow to Go Fast, you'll find new and improved content on:
Core challenges in today's business environment and what that means for you
Communication's role in business strategy (and why strategies fail)
The impact of poor communications on business overall
New data on leaders and their ability to build trust in corporate America today
The latest facts and figures on the cost of employee disengagement

And more!
Download—Going Slow to Go Fast: Making Internal Communication Work for You—by filling out the form.
See why good employee communication can improve an organization's success by turning strategy into action.