Free Tip Sheet
Heart First Solutions Guide For Today's Business Challenges
Download Now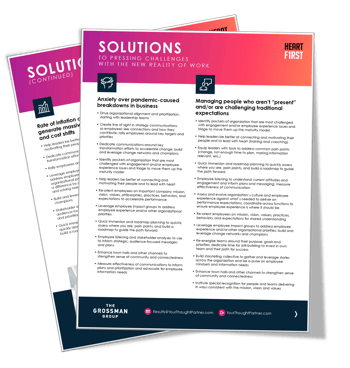 Leaders & communicators face many challenges today.
At the surface, they don't look that different from the challenges they've faced over the last decade or more.
Some things are vastly different for companies now and there are new and complex challenges happening that have a significant impact on how leaders lead and respond.
And it's been exacerbated by the events of the last 2 years…
If this sounds familiar, we can help.
This two-page resource provides 40+ solutions that get at big things leaders and communication professionals can do to address challenges in the workplace that have transpired in the past two years, including:
Anxiety

over pandemic-caused breakdowns in business
Managing people

who aren't "present" and/or challenging traditional expectations
Massive

pricing and cost shifts
Civic and civil

tension
Access the guide today by filling out the form.