Free ebook to help you reduce turnover
Holy Shift: Lead with Heart to Engage and Retain Employees
Download Now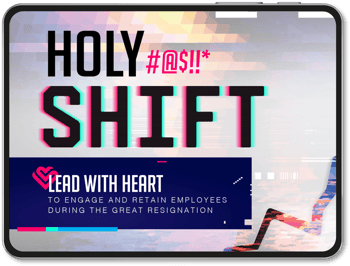 The unprecedented trend of employees leaving their jobs has many leaders scrambling, and nearly all our clients are asking a version of the same question today:
How do we slow or halt turnover for the workers who remain?
The good news is there are things you can do today.
This new eBook examines the problem and offers practical, actionable guidance on how to reverse the trend.
Get tips and tools for building a stronger culture, one that employees are excited to be part of. You'll find advice on topics such as:
Helping employees feel even more valued and appreciated
How to take more time to listen to employees
How to make the most of employee recognition efforts
The core components and proven communication strategies that lead to employee engagement
Striking a balance between company goals and employee preferences
Ensuring the business communications team is structured wisely
Workplace policies that help support employees
How manager training and effectiveness can help greatly enhance engagement
More!
Access the free eBook, Holy Shift: Lead with Heart to Engage and Retain Employees During The Great Resignation, today by filling out this form.