Free eBook
How to Activate and Embed Your Strategy to Accelerate Results
Download Now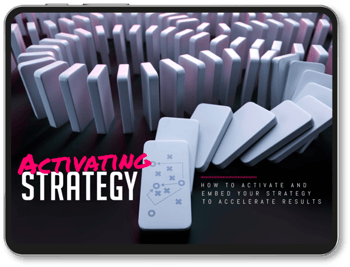 Organizations are under tremendous pressure to produce results today.
Yet one of the biggest failings for many organizations is launching a strategy that's either misunderstood or doesn't resonate with employees.
As a result, the strategy never achieves its goals and employees are often left feeling disengaged.
The difference between a strategy on paper and a winning strategy that accelerates performance is how well leaders bring their teams along on the journey.
This new eBook, How to Activate and Embed Your Strategy to Accelerate Results, includes case studies and provides 6 proven steps the most effective organizations follow to ensure their strategy resonates and inspires employees, and gets results.
Key topics covered include:
Committing to a clearly defined strategy
How to activate your strategy before it's even written
Getting leaders and teams in a change-ready mindset
Articulating the strategy and storyline so it's easy for people to see and understand
Rallying people leaders through memorable experiences to get them excited about the new direction
Planning a smart rollout of the strategy and sustaining communication to keep the strategy top of mind
Download How to Activate and Embed Your Strategy to Accelerate Results by filling out the form.