Free eBook
10 Ways to Make the Most of Your Town Hall and Unleash the Power of Your Hybrid Teams
Download Now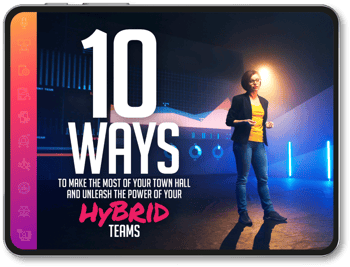 Your employees have options about where they work. With turnover at an all-time high and employee engagement at record lows, companies across all industries are facing a critical inflection point: either adapt to employees' evolving needs or watch them walk out the door to their next opportunity.
One mainstay channel is at the crux of the solution: Town Hall Meetings.
Town halls are intended to serve as a platform to foster the critical connection employees seek, yet far too many employees still see them as a chore. Let's change that – together.
In our new eBook, 10 Ways to Make the Most of Your Town Hall and Unleash the Power of Your Hybrid Teams, we unpack the need for meaningful change to town hall meetings. We go into detail illustrating how, with careful planning and thoughtful execution, town hall meetings can enhance engagement, build trust in leadership, and create a sense of belonging among employees.
The resource offers communications leaders a roadmap for revamping their town halls to inform, engage, and inspire their employees, including:
The current landscape for town halls
New data on employee engagement and trust levels today, and why it matters more than ever
The key questions all employees have, and employers must address
How town halls can aid with employee engagement, trust, and fostering a sense of belonging
Practical tips to transform your town hall, based on industry best practices and best-in-class client experiences – from leveraging technology to helping leaders be transparent and demonstrate vulnerability to planning communication touch points between meetings
And more!
Download 10 Ways to Make the Most of Your Town Hall and Unleash the Power of Your Hybrid Teams by filling out the form.