Free eBook
Reflect, Reimagine & Reboot Your Internal Communications Plan Through the Pandemic
Download Now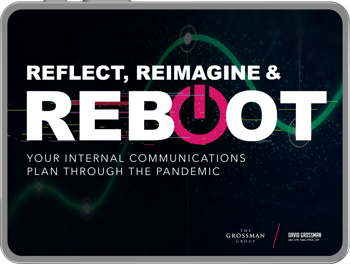 Businesses have been on a wild ride in 2020. This time of uncertainty has been a real opportunity for communicators, who find that their role has never been more important.
The dramatic changes to business have handed communicators a crash course in determining what truly works and what's still needed to unite, engage and drive companies forward against their strategy.
Our eBook, Reflect, Reimagine and Reboot Your Internal Communications Plan Through the Pandemic is designed to help you strategically respond to the rapidly evolving communications needs of your organization.
This comprehensive guide provides:
Insights and data

on how internal communications have changed in 2020
A deep dive into the 3Rs Internal Communication Model

and how you can apply it in your organization today
Background on the value of taking inventory of your internal communications

and a free worksheet to guide you
An assessment

to help you weigh your team's communication competencies
Strategies to help you move past anecdotal ideas

and to a better approach and overall communications function that's fit for the future of business during the pandemic and beyond
A proven model to build your business case for the internal communications

resources

and infrastructure

you need to be successful going forward
Solutions to reboot your communications plan

in less than a day
And more!
Get your free copy of Reflect, Reimagine & Reboot Your Internal Communications Plan Through the Pandemic today by filling out the form.