Free eBook
Respectful Authenticity: Bringing Your Best to Work and Bringing Out the Best in Others
Download Now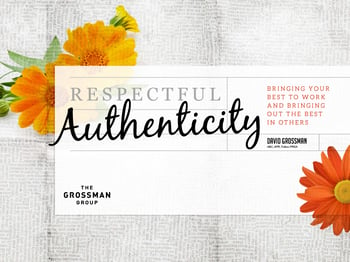 In today's era of leadership in a fast-paced business environment, respectful authenticity has never been more important, especially as high-profile business and ethics scandals fill the news.
In David Grossman's most personal ebook yet, he tells his story of self-discovery, and stresses the value of leaders living authentically so they can be their best selves, motivate their teams, and get results.
Written for leaders who wish to bring more of who they truly are to the workplace, this eBook walks through the process of getting there, regardless of where they might be on their personal journey.
The steps in the journey to respectful authenticity include:
What respectful authenticity means
Why it matters and why it's so important today
How to start on the path to respectful authenticity
Three components of respectful authenticity and how to achieve them
Three important things to take with you on your journey
The high value of being authentic
Download—Respectful Authenticity: Bringing Your Best to Work and Bringing Out the Best in Others—by filling out the form.
We wish you the best as you start your journey to becoming a more authentic leader.