Free eBook
Top 11 Attributes of Exceptional Leaders and Communicators
Download Now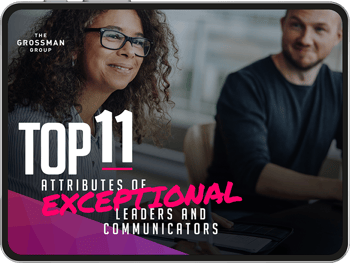 Do you know what it truly takes to be a great leader today? With all the continuous change over the past few years, it's important to take a fresh look at what makes an exceptional leader in the current business environment.
Today, leaders need to focus on:
Sincerely listening to what their employees want and need
Building far more genuine and authentic connections than they might have aspired to in the past
Leveraging and delivering communication that engages and motivates employees in different ways than they have previously
In our new eBook, Top 11 Attributes of Exceptional Leaders and Communicators, we share insights we've gathered through our quantitative research of 750,000+ leaders and employees inside some of the world's leading organizations, and from the many focus groups we conduct every year, to identify the top traits exhibited by the leaders who truly stand out.
This resource offers leaders a roadmap to what employees want and need from leadership today by:
Defining the top 11 attributes of great leaders, based on data
Why these attributes are so important to employees
Watchouts to help you understand what might quickly damage credibility
And simple things you can do today to make a greater impact
Great leaders plan for today and the future. We invite you to use this resource as you continue to refine your leadership style and connect with and engage your teams.
Download the Top 11 Attributes of Exceptional Leaders and Communicators eBook by filling out the form.