It's crucial to look at your communications as a process of repetition. Too often, leaders think of communication as a "check-off-the-box activity." For example, they'll think,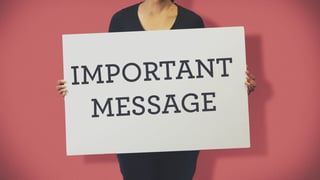 "I sent an email. Therefore, I communicated." By doing so, they confuse getting the message out with actually creating shared meaning and understanding.
Do Follow Up With Materials to Help Your Audience Retain and Process the Message

Research shows the average prospect needs to hear a message seven times before they take action. Employees don't need quite this same attention—their number is probably closer to three to five times—but it still takes a few reiterations for the message to sink in.
Clearly, repetition is your friend. I often say, "If you're getting tired of delivering your message, then good for you. That means you're doing your job."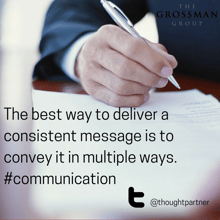 Beyond repetition, you should develop messages based on your audience's needs and then communicate with them in multiple ways. Engage key influencers and thought leaders along with supervisors throughout the organization. When employees hear the same messages from their supervisor (always their preferred source for job-related information), from the CEO, read it on the intranet, and hear it through the grapevine, they're more likely to believe it and, most important, act on it.
You should also remember that getting information out is just that—getting information out. Nothing more. To truly communicate, you need to know that the information was received and understood. In fact, doing a little and thinking you are done is one of the most common traps I see leaders fall into. The downside is a lack of information, skepticism, mistrust, confusion, or worse yet, inaction among those you are trying to reach.
What steps do you take to make sure your message is received?
—David Grossman
Download our Free eBook, "Mastering the Art of Messaging," where I show you how to create a winning strategic messaging plan, building from the basics of a core platform to the details of implementation and delivery.