December 4, 2017
[Free Poster Download] 52 Leadership Quotes to Inspire You to Lead by Example and Build Trust
Last year we created an easy-for-download poster with 52 inspirational quotes on communication and we were so happy to see how well it was received. So to continue on in the spirit of motivation – and to hopefully help you lead by example and build trust with your teams in the year ahead – I've created another poster, this time with 52 of my favorite quotes on leadership. Quote topics range from employee engagement and authenticity as a leader to teamwork to building trust, and having the courage to lead.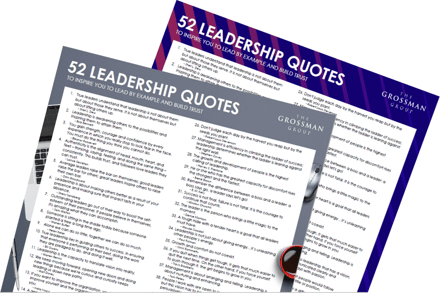 Since there are 52 altogether – we encourage you to pick one a week and use it as inspiration as you continue to advance your leadership skills in the year ahead. Here are ten to get you started. Click the image below to download the whole poster (you can print and hang it in your office and/or share with colleagues and friends!).
Download your free leadership quotes poster here.
Leadership Quotes to Inspire You to Lead by Example and Build Trust
1. True leaders understand that leadership is not about them but about those they serve. It is not about themselves but about lifting others up.
- Sheri L. Dew
2. Someone is sitting in the shade today because someone planted a tree a long time ago.
- Warren Buffet
3. I never lose. I either win or learn.
- Nelson Mandela
4. You gain strength, courage and confidence by every experience in which you really stop to look fear in the face. You must do the thing you think you cannot do.
- Eleanor Roosevelt
5. Management is about arranging and telling. Leadership is about nurturing and enhancing.
- Tom Peters
6. Leadership is about making others better as a result of your presence and making sure that impact lasts in your absence.
- Sheryl Sandberg
7. Leadership is the capacity to translate vision into reality.
- Warren Bennis
8. The growth and development of people is the highest calling of leadership.
- Harvey S. Firestone
9. Alone we can do so little; together we can do so much.
- Helen Keller
10. True leadership lies in guiding others to success, in ensuring that everyone is performing at their best, doing the work they are pledged to do, and doing it well.
- Bill Owens
What quotes inspire and encourage you to be the best leader you can be?
—David Grossman
Click below to download֫—52 Leadership Quotes to Inspire You to Lead by Example and Build Trust—and pick from two styles to print and hang in your office today!