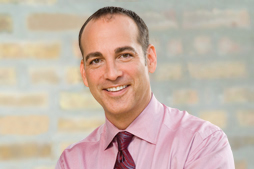 David Grossman
ABC, APR, Fellow PRSA, CSP
Founder & CEO
David Grossman, ABC, APR, Fellow PRSA, CSP helps leaders drive productivity and get the results they want through authentic and courageous leadership and communication.
David's work solves three business problems:
Minimize the downside of change where business could be stopped, slowed or interrupted

Maximize the upside of change to accelerate business results

Turn employee confusion, skepticism or apathy into engagement
David is both a teacher and student of effective leadership and communication. He is one of America's foremost authorities on communication and leadership inside organizations, and a sought-after advisor to Fortune 500 leaders.
Leveraging his background in organizational development and psychology, David is known for his thoughtful, personal, and pragmatic approach, and coaches leaders at all levels to utilize communications as a strategic business tool. By acting as an advocate for employees and as a thoughtpartner™ to senior management, David and his team help organizations unleash the power of communication to engage employees and drive performance.
David is Founder and CEO of The Grossman Group, an award-winning Chicago-based communications consultancy focused on organizational consulting, strategic leadership development and internal communications. The Grossman Group's client roster represents a wide range of industries and includes some of the world's leading companies such as Accor, AOL, CVS/Caremark, HTC, GlaxoSmithKline, Heinz, Intel, Johnson Controls, LifeScan (a Johnson & Johnson company), Lilly, Lockheed Martin, MassMutual, McDonald's, Microsoft, DuPont Pioneer, Rockwell Automation, Symantec, and Virgin Atlantic, among others.
David is often quoted in media, providing expert commentary and analysis on employee and leadership issues. He's been featured on "NBC Nightly News," CBS MoneyWatch, in the Chicago Tribune and the LA Times. He's a member of USA Today's corporate management and leadership CEO panel, and currently teaches the only graduate-level course on internal communications in the U.S. at Columbia University.
Leaders, communication professionals, and educators applaud David's two books – "You Can't NOT Communicate: Proven Communication Solutions That Power the Fortune 100," now in its second edition, and its follow up – which continue to receive accolades and praise for reminding leaders — everywhere and at all levels -- on the value of getting leadership and communication right.
He has also authored numerous e-books, such as "The Mistakes CEOs Can't Help But Make and the Fixes They Can't Afford Not to Make," and "The Definitive Guide to Taming the Email Monster," and has been featured in numerous industry and trade publications.