October 24, 2014
Weekly Round-Up: On Making Values as Important as Performance, Creating a Game Plan for Your Goals & Setting the Context That Fosters Collaboration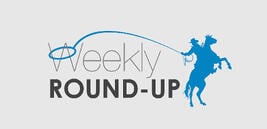 Welcome to my weekly round-up of top leadership and communication blog posts. Each week I read and tweet several great articles and on Fridays I pull some of the best together here on my blog. So in case you've missed them, here is this week's round-up of top posts.
They'll provide you with tips, strategies and thought-starters from many of the smart folks in my network. So whether you're a new leader or an industry veteran there'll be something here for you.
The Three Types of Feedback
By Adi Gaskell
"n the early 20th century, psychologists discovered that your brain, just like your stomach, can get full. The phenomenon was eventually called semantic satiation--where people got so tired of hearing a repeated word…"
Set the Context That Fosters Conviviality, Connection and Collaboration
By Kate Anderson, Forbes
"Want to become a sought-after, connective leader? Then become the glue that bonds others together around their most talented sides. Consider this approach…"
Make Values as Important as Performance
By S. Chris Edmonds, Thin Difference Blog
"How do you gauge your team's effectiveness? If you're like most leaders, you monitor performance metrics closely. You have dashboards that show sales per week (or month or quarter), market share…"
CEO Presence Isn't Style. It's Substance
By John Bell, Switch & Shift
"Have you ever watched a charismatic person "work" a room? At the outset, they assess the collective mood. Then they advance to the gathering with a demeanor that suits the environment…"
How to Create a Game Plan for Your Goals
By Aj Agrawal, Inc.
"We all have objectives we want to hit. This includes our personal goals and our goals for our companies. Unfortunately, most of us never draw up a roadmap for how we are going to reach our targets…"
What were some of the top leadership articles you read this week?
- David Grossman
___________
Download Cutting To Win and receive 6 steps for getting employees on your side during cost cuts!