September 29, 2021
Is Your Leadership Mindset Outdated? Do You Ensure Good Comes First? - Guest Blogger S. Chris Edmonds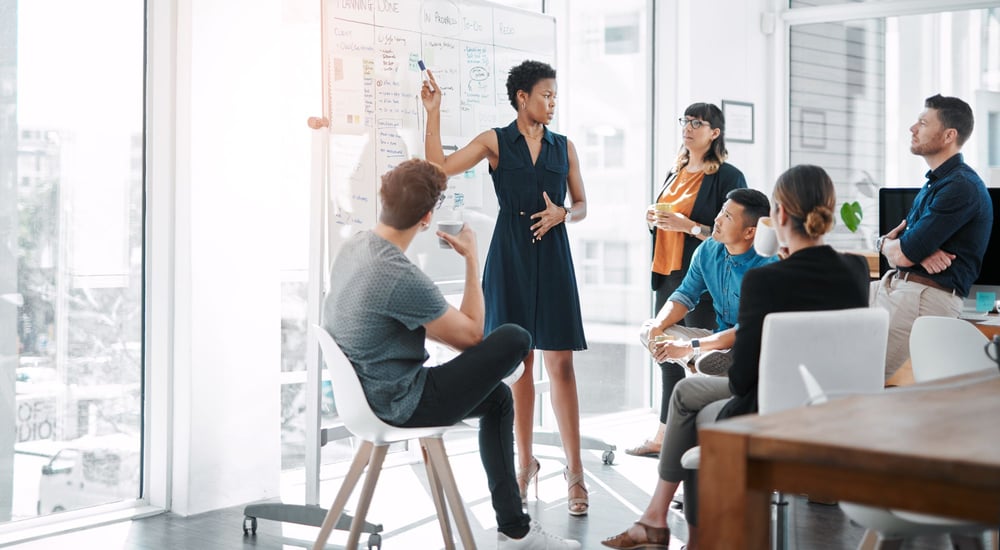 Business leaders across the globe are coming to an unexpected—and undesirable—realization: Their work cultures suck.
Of course, we can't and shouldn't label all company cultures as toxic. But the odds are good they're not ideal and are less than inspiring. In many organizations, poor company culture is the root cause of low employee engagement, poor retention rates of key employees, low productivity, and many more undesirable outcomes.
Even without knowing the exact negative impact of a lacking company culture, experience tells us too many work cultures today aren't consistently respectful or even civil. Over the past five years, daily interactions in many organizations closely mirror society. In other words, they're more likely to be divisive, demeaning, discounting, and dismissing than validating and celebrating. These culture characteristics lead to burnout, workplace bullying, high turnover of employees, and worse.
The State of the Workplace: The Numbers Don't Lie
Please consider:
TinyPulse's 2021 state of employee engagement report examined the post-pandemic impact on engagement. 66% of respondents agreed that employees in their organization are experiencing emotional exhaustion.
The Workplace Bullying Institute's 2021 study found that 30 percent of American workers have experienced bullying in the workplace. Another 19 percent of Americans have witnessed workplace bullying; in all, over 79 million American workers are affected by workplace bullying.
The US Bureau of Labor Statistics reported that in July 2021, voluntary quits totaled nearly four million, on par with the quits from the previous three months, some of the highest quits totals the Bureau has seen. (Yes, "The Great Resignation" is real.)
And still, people need to work. They're just looking for a good place to work.
The Need for a New Leadership Mindset
So, how can leaders create and sustain a culture that attracts good people—a purposeful, positive, and productive culture?
First, a change in leadership mindset is required. After all, the pandemic has given people time to realign their priorities to what matters most to them. This means leaders must adapt. They must now look at what is most important—not just for the company but for the people helping to accomplish the mission. They must shift from a "results at all costs" mindset to a culture where good—good for employees, leaders, vendors, customers, and all stakeholders (not just shareholders)—comes first.
Today, employees of all generations desire—and deserve—workplaces where they are respected and validated for their ideas, efforts, and contributions, every day.
A work culture founded on command-and-control principles cannot—and will not—meet this need. Our research and experience have led us to an undeniable conclusion: An Industrial Age leadership mindset is not only flawed—for many businesses, it will prove fatal.
Today, employees of all generations desire—and deserve—workplaces where they are respected and validated for their ideas, efforts, and contributions, every day. And if employers fail to meet those demands, as the workforce is already proving, they'll work elsewhere.
Creating an Uncompromising Company Culture (That Doesn't Suck)
So, how do leaders create and sustain a work culture where "good" is an integral part of the new normal?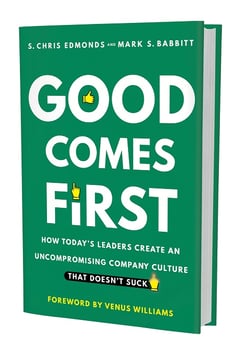 In our upcoming book, Good Comes First, Mark S. Babbitt and I share our foundational principle for creating an uncompromising company culture: Value respect and results equally.
Let me say that again: Leaders, from the top down to frontline managers, must make showing respect as important as achieving optimal results. Because only when employees and fellow leaders feel their work, time, and intellectual influence are respected by their employers will they rise to produce the results leaders have been measured by for decades. And when people know good comes first—they know they can expect respect while helping drive results—they will profoundly impact results:
Employee engagement: +40%
Customer service ratings: +35%
Productivity: +35%
Of course, even for more contemporary leaders, this change cycle doesn't happen overnight. Your executive team will need to work through a step-by-step process that goes beyond theoretical, feel-good ideas and into tactical, practical "Define-Align-Refine" action. Specifically, Good Comes First guides leaders to define their desired culture, then align and refine all plans, decisions, and actions to that desired culture.
Once leaders and employees start to model their good comes first culture, however, your company will attract top talent looking for a good place to work. Existing employees not only will stay—they'll also invite friends and colleagues to join the company through employee referrals. Soon, as a leader and change champion, you will not only have changed your leadership mindset, but you will have achieved the ultimate goal of a good comes first company:
Good people. Doing good work. In a good place to work.
To learn more about Good Comes First—and to register to receive Venus Williams' foreword and the book's first chapter—click here.
Buy your copy of Good Comes First at these online retailers.
About S. Chris Edmonds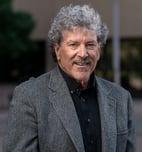 S. Chris Edmonds helps leaders create and sustain purposeful, positive, productive work cultures. Chris is a sought-after speaker, author, and executive consultant. He is the founder of The Purposeful Culture Group. He is one of Inc. Magazine's 100 Top Leadership Speakers and was a featured presenter at South by Southwest.
In addition to authoring the Amazon bestseller The Culture Engine, Chris is co-author of the upcoming book, Good Comes First: How Today's Leaders Create an Uncompromising Company Culture That Doesn't Suck. Chris' videos, blogs, and podcasts are available at DrivingResultsThroughCulture.com.