Your thoughtpartner™
At The Grossman Group's core is our thoughtpartner philosophy.
What is a thoughtpartner?
Someone who understands you, your business opportunities, and what you want to accomplish. Someone who asks the tough questions your stakeholders will ask, and works with you on the answers.
Someone who brings to the table his/her life experience, best practices and expertise. A strategic business person first; a communication counselor second.
Our mission is to be your thoughtpartner. Always. We're there for your everyday and your defining moments. We're strategic business partners first and communication counselors second, and we're ideally suited to help our clients identify the best solutions for each and every situation and challenge. And we get them done.
We don't take the word "partner" lightly. We create partnerships every step of the way—with leadership, with company divisions, with suppliers. Our team consists of professionals from diverse backgrounds, including some of the country's largest consulting and communications firms, as well as corporations. We bring the best of both worlds to the table—along with flexibility, creativity, and smart, strategic solutions—for unparalleled results and ecstatic clients.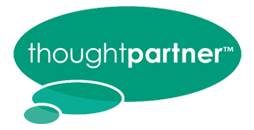 thoughtpartner™ (thôt pärt'ner) n. 1. someone who understands you, your business opportunity and what you want to accomplish 2. someone who asks the tough questions your stakeholders will ask, and works with you on the answers 3. someone who brings to the table his/her life experience, best practices and expertise 4. a strategic business person, first; a communications counselor, second