November 14, 2022
The Best Pumpkin Chiffon Pie You'll Ever Taste, And the Famous Woman Behind the Recipe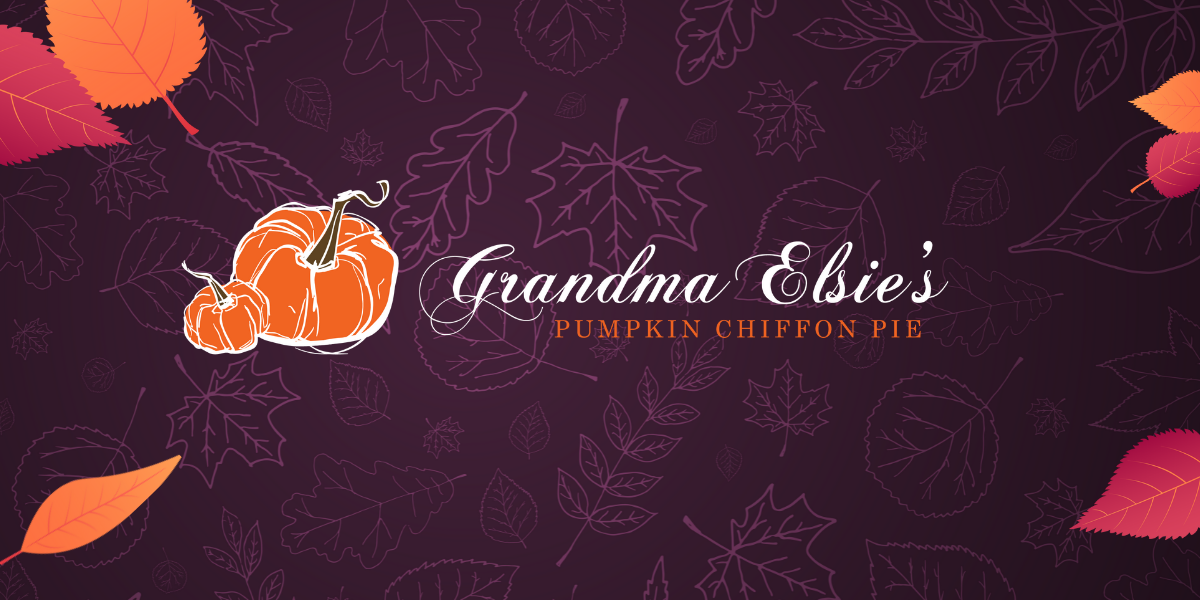 It's that time of year again – the holidays are fast approaching and as many of you know, the season kicks off with my favorite holiday: Thanksgiving. One of the many reasons I look forward to Thanksgiving is because it's the season of Grandma Elsie's Famous Pumpkin Chiffon Pie and other crowd-favorite recipes, and special time with family and friends.
Grandma Elsie and Her Special Tradition
For those of you who don't know the story behind Grandma Elsie and her famous Pumpkin Chiffon Pie (which is the best I've ever tasted), I'd like to share it. (For those of you who do, I hope you'll indulge me in a retelling to honor the woman whose generous spirit and tradition are behind the pies.)
Instead of getting holiday gifts for friends and neighbors, Elsie Edelstein, who I adopted as my grandmother, made pumpkin pies and hand-delivered them before Thanksgiving. The blessing, as she used to say, was in the making ("food brings people together") and in the giving ("it's better to give than receive!").
A tradition that started with one creative and thoughtful woman was quickly adopted by her daughters and grandchildren, along with friends and neighbors.
And these aren't any old pies.
These are the most delicious, mouth-watering pumpkin pies you've ever had. Even people who don't like pumpkin pies love her now-famous recipe (and you can, too!). So, no excuses – get out your grocery list and take down the ingredients to make Grandma Elsie's unforgettable pies. You'll find the recipe here.
Grandma Elsie's Tradition is Celebrated at The Grossman Group
For two decades, The Grossman Group has adopted her wonderful tradition by sharing in her sentiments with friends and colleagues in our network by passing along Elsie's famous pie and spice mix recipes.
You know it's a special tradition when clients call in early November wondering whether the agency is celebrating Grandma Elsie again this year.
The Famous Recipes
We also have some delicious extensions to Grandma Elsie's reach, which were suggested to us by a colleague, Brad Whitworth, and his wife, Peg Champion. It turns out that Grandma Elsie's Famous Spices isn't just a must-have for pies.
You'll see there are a heap of recipes using Grandma Elsie's famous spices! From scrumptious breakfast to dinner with a twist, tasty snacks, elegant drinks and decadent desserts, there's something for everyone as you gather around the table with friends and family over the Thanksgiving holiday.
We hope you'll enjoy them.
Coming Together for the Holidays
If you're like me, you've probably learned over the past few years how important it is to make a conscious effort to spend extra time being grateful for what matters most. For me, it's my family, time with my children (although they're at the age where they're less interested in spending time with me!), our health, and my team at The Grossman Group.
As a firm, we celebrated 22 years of engaging employees and helping leaders lead with heart. We're grateful to have the opportunity to partner with our clients as, together, we continue to navigate new workplace challenges spanning remote and hybrid environments, turnover and engagement to communicating and rallying teams around evolving strategy, challenges in supply chain, how to do more with less on the heels of a probable recession and more.
Despite the challenging times we're in, it brings us such joy to help organizations connect with their people in new and meaningful ways, and to help leaders see the difference they can make when they lead with their heart, first.
What are you grateful for this year?
—David Grossman
---
In the spirit of giving, we want to pay it forward by offering complimentary copies of Heart First to leaders who want to make the workplace better. We'll provide you, members of your team, and/or a leader you think will benefit with a copy (it's on us). Click below to select your option and submit your book order today!