Last week I talked about the nine fast (and not so fast) fixes for two-way dialogue. This week, it's time to think about the actual skills you need to improve that same kind of dialogue.
So just what are these skills?
Don't worry, following is the list of 12 must-know, must-master abilities that make for good communication.
There's one for every month of the year, but it won't take you a month to apply each of these skills. Maybe 12 weeks?
You must have an ability to:
Select the right time and method for communicating
Be present in the moment and limit distractions
Provide the big-picture and context first; check for understanding before sharing more detailed information
Ask broad open-ended questions to gather feedback
Share the rationale behind decisions
Listen for what's being said (and not said)
Ask more specific questions to ensure understanding
Listen some more (stop talking)
Empathize and reflect back feelings when appropriate
Check for understanding (paraphrase)
Ask for feedback (what's working well/what could be better)
Ensure shared understanding/meaning before the conversation ends
In the end, employees will give you credit for trying. Self-disclose by letting them know what you're working on, and ask them for how you're doing. It shows you care, and you'll get kudos for trying even when the outcome isn't exactly what you want.
- David Grossman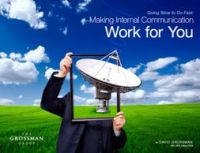 Free e-book: Going Slow to Go Fast: Making Internal Communication Work for You
Going Slow to Go Fast
is a high-level, go-to resource for communicators who want to build an effective internal communication process that speaks directly to business leaders' number-one question: How will this improve our company's bottom line?
Download Now!