I had the opportunity last week to share my thoughts on 21st Century Communications at the IABC World Conference, as well as the Business Development Institute's (BDI), Social Media & Internal Communications Summit.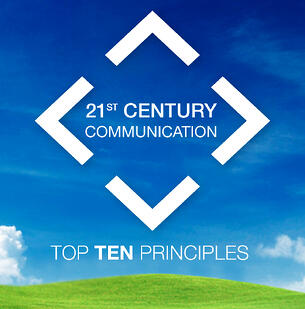 In developing my perspective, I pulled together the best-of-the-best strategies that work from our clients who are leading in the global communications arena, and from my travels. The result are the Top Ten Principles for leaders, organizations, and communication professionals.
My intention in developing these principles is three-fold:
To continue to advance the dialogue on the critical topic of communications
To elevate the importance of communications and how it's inextricably linked to leadership
To provide perspective on what's possible (and possibly essential) to survive and thrive today
Here's an overview of my Top Ten. In the coming weeks, I'll expand on each of the topics below:
Character is a differentiator
This is all about trust both for organizations and individuals. There's a critical need to sync up the culture and reputation of organizations. At the same time, credible leaders and organizations need to
focus on actions and then follow with words
.
No one leadership style is preferred
What's most important to know is one's style and then to flex your style in various situations. Authentic leadership is about being more of who you are in the workplace (and knowing yourself – see below) with high visibility, high impact communications that inspire and motivate others to action.
There's a greater need to imagine and advance a vision
People really are the greatest asset
Everyone is a leader
Leadership is something in which everyone participates, no matter whether one manages people or not. Everyone can and must lead no matter what one does.
There's a greater focus on self
Before you can lead others, you need to first know and understand yourself.
Change is the norm
Change is constant and leaders increasingly need to be able to deal with ambiguity and adapt to change.
Employees everywhere have the same fundamental communication needs
This isn't changing. Meeting employee's communication needs and answering The Eight Key Questions™ All Employees Have give you the best chance of engaging them, especially during change.
More and better listening, individually and systematically
The communication system is better honed to manage overload and inefficiencies