The ability to engage in strong two-way communication with employees is a must-have skill for leaders – especially those looking for ways to increase employee engagement. And oddly, I've found that this is an area many leaders and managers overlook. All too often, they don't even realize they are having communication issues that if addressed, would lead to immediate returns on their time invested.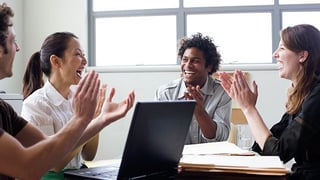 So, if you're looking to improve your two-way communication, you can begin to make changes that will have an impact, and the truth is, the changes aren't as hard as you might think. We frequently work with our clients on essential must-do strategies for enhancing two-way dialogue, and they are often surprised that these fixes are not as challenging as they first imagined. Now, that's not to say that change happens overnight, but it does mean that with a little attention and self-awareness, everyone has the power to improve their two-way communication.
To improve communication, managers need to:
1. Understand their role and the expectations leadership has of them (that means leadership needs to have and articulate expectations)
2. Be self-aware so their own issues, challenges and filters don't get in the way
3. Be trained on how to drive two-way communication
4. Let their staff know there's an issue and, seek input from them on how to improve two-way communication (what's working well/what could be better), and then act on their suggestions
5. Have a communication plan for their team, which ensures a regular cadence of opportunities to have dialogue about the state of the business, results, how the team is doing, the impact of decisions on the team, and so on
Feel like you're communicating but your employees don't always hear you? Our free
ebook
can help. Employees are eager for a leader who can step up and guide them with strategy and integrity.
Click here
to access messaging secrets on how to connect and communicate with your team.
6. Be held accountable for those expectations and behaviors
7. Share their expectations of employees when it comes to communication
8. Regularly ask their teams how communication is flowing (what's working well/what could be better), and then act on those suggestions
9. Measure the state of communication regularly (a survey once a year isn't enough)
Which two or three steps, if addressed over the next few weeks, would have the biggest impact on your effectiveness?
—David Grossman
___________________________________________________________________
Feel like you're communicating but your employees don't always hear you? Download "Can You Hear Me Now? Make What You Say Matter And Increase Your Chance of Being Heard" eBook, today!