March 4, 2019
20 Leadership Blogs You Should Be Reading Every Week
What does it take to help leaders communicate and lead more effectively? Even the most personable and engaging leaders can benefit from new leadership tips.
Leadership roles change every day and leaders need to grow and improve with them. Here are 20 leadership blogs that I like to check in with on a regular basis.
The Top 20 Leadership Blogs
Eric Jacobson is an experienced leader, strategic planner, marketer and nonprofit business partner who enjoys blogging in his spare time. His blog offers quick and simple tips and techniques for leaders and managers on leadership and communication. Follow Eric.
Dan McCarthy is an expert in leadership and management development. For over 20 years Dan has helped organizations, leaders and aspiring leaders improve and optimize their leadership capabilities. His blog offers opinions and information on leadership and leadership development from both himself and smart leaders in his network. Follow Dan.
Adi Gaskell advises organizations on how the latest news, research and trends are affecting the workplace today. Adi is regularly featured in Forbes, HuffPost, BBC, and LSE Business Review, and his blog covers areas of technology, innovation, and collaboration, while providing insights that connect the dots to various aspects of working life. Follow Adi.
Ken Blanchard, Ph.D. is the cofounder and Chief Spiritual Officer of The Ken Blanchard Companies, an award-winning, renowned speaker and consultant, and author or coauthor of more than 65 books, selling over 22 million copies in total. Ken's passion is to turn every leader into a servant leader, and he shares his inspiring insights on his blog on how to do just that. Follow Ken.
A business consultant, coach, former executive, and bestselling author, Jesse Lyn Stoner has worked closely with leaders for over 30 years helping them create collaborative, engaged organizations that make a powerful and positive impact on the world. Jesse was recognized by American Management Association as one of the "Top Leaders to Watch in 2015." Her blog focuses specifically on helping leaders create a compelling vision for their employees, among more broad actionable leadership tips and advice. Follow Jesse Lyn.

Named #1 leadership expert in the world by Inc. Magazine in 2014, John Maxwell has written over 100 books, several of which are New York Times bestsellers. His insightful and thought-provoking posts are a must-read for leaders looking to be their best selves and lead with their best foot forward. Follow John.
Mark Sanborn is president of Sanborn & Associates, Inc., an idea studio dedicated to developing leaders in business and in life. Mark is an international bestselling author and keynote speaker, and his blog focuses on his noted expertise in leadership, team building, customer service and change. Follow Mark.
Kevin Eikenberry is a world-renowned leadership expert, a two-time bestselling author, speaker, consultant, trainer, coach, and Chief Potential Officer of The Kevin Eikenberry Group. Among many accolades, he was recognized by Inc. Magazine as one of the "Top 100 Leadership and Management Experts." Kevin's philosophy in business and in life is that every person and every organization have extraordinary potential, and his blog provides practical advice on how to reach it. Follow Kevin.
Dan Rockwell's blog is full of short (no more than 300 words each) and impactful posts of direct advice on… you guessed it, leadership. Dan is named in Inc. Magazine's "Top Fifty Leadership and Management Expert" and "Top 100 Great Leadership Speakers." His blog is one of the most socially shared leadership blogs on the Internet. Follow Dan.
Randy Conley is the vice president of client services & trust practice leader for The Ken Blanchard Companies. Trust Across America named him a "Top Thought Leader in Trustworthy Business Behavior" and Inc. featured him on their list of "100 Leadership Speakers for Your Next Conference." Randy's blog shares specific ways for leaders to build trust with employees. Follow Randy.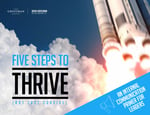 As a leader, would you say your organization is just getting by? Or is it truly thriving? In this free
eBook
, I provide essential tips for connecting and communicating with employees to achieve measurable, meaningful growth.
Click here
to get started.
An exceptional team in marriage and in business, Karin Hurt and David Dye are both award-winning authors and international keynote speakers who inspire and help leaders through transformational change and improving productivity and results. Their blog provides straightforward, practical leadership solutions to common challenges from their combined background of expertise. Follow Karin. Follow David.
With over 30 years of experience as a speaker, author, and coach and consultant to top executives around the world, Lolly Daskal brings a mix of modern philosophy, science, and behavioral and psychological principles to her perspective on leadership on her blog. Among other awards and accolades, Lolly was named by HuffPost as "One of the Most Inspiring Women in the World." Follow Lolly.
Formerly the CEO of a $250 million corporation, Michael Hyatt is a New York Times bestselling author, successful entrepreneur, and leadership mentor. His business was named to the Inc. 5000 list of America's fastest growing private companies. Michael's blog features insightful posts on productivity, leadership, and personal development. Follow Michael.
Susan Mazza was named one of the "Top 100 Thought Leaders in Trust" by Trust Across America, and Inc.'s "100 Great Leadership Speakers for Your Next Conference" and "Top 50 Leadership Innovators Changing How We Lead." Susan is an author, keynote speaker, and consultant for leaders and teams in leading change and transforming their performance, relationships and work environment. Her blog helps leaders stay up to date with the latest tips and tools for leadership development. Follow Susan.
An experienced technology and operations leader in the financial services industry, Scott Mabry is passionate about leadership, people development, and building great teams. Scott writes about his learnings of leadership through his experiences with one outcome in mind: make the world a better workplace. Follow Scott.
Having served as President and CEO of multiple companies throughout his career, Skip Prichard is an experienced growth-oriented business leader, keynote speaker, and Wall Street Journal bestselling author. On his personal blog, he shares ideas and inspiration from his experiences and interesting people he's met. It includes topics of leadership, personal development, marketing, motivation, health and psychology. Skip also often discusses recent books he's read that entertained, educated, or inspired him. Follow Skip.
SmartBrief is the leading digital media publisher of targeted business news and information by industry serving nearly 6 million senior executives, thought leaders and industry professionals. Their leadership segment provides the most relevant insights, tips and best practices for executive business leaders and managers. SmartBrief shares the most popular content on leadership from leading news sources and bloggers (including many of those in this post!) and publishes them in a daily newsletter. Subscribe to get that roundup, too. Follow SmartBrief on Leadership. Follow SmartBrief.
Kate Nasser, author, keynote speaker, and consultant is a former techie turned people skills guru who turns interaction obstacles into business success. Her blog captures her learnings from coaching leaders on how to lead morale, engage employees and teams, and elevate customer service experiences. Follow Kate.
After working with hundreds of tech companies (including Microsoft, IBM, and Google) as a high-tech recruiter, Meghan Biro founded TalentCulture to lead a conversation about the future of work with her peers in HR and leadership. On her blog, you'll find her sought-after insights on topics ranging from workplace culture and leadership to HR tech, for readers who want to understand and shape the human aspects of business. Follow TalentCulture. Follow Meghan.
Tanveer Naseer is an internationally-acclaimed keynote speaker and award-winning leadership writer, and founder and CEO of a leadership development consultancy. He was recognized by Inc. Magazine as one of the "Top 100 Leadership and Management Experts" as well as "100 Great Leadership Speakers for Your Next Conference." Tanveer's blog features actionable advice, guidance, and insights on all things leadership including building relationships with teams and employees. Follow Tanveer.
Check in with these leadership blogs a few times a week and get countless tips that you can put to use right away.
—David Grossman
---
Click below to download—The Leader Differential: 5 Steps to Thrive—and get essential tips for connecting and communicating with employees to achieve measurable, meaningful growth.