November 18, 2014
Thanksgiving Brings…A New Recipe From Grandma Elsie's Kitchen!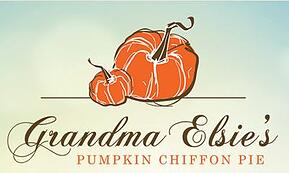 With Thanksgiving quickly approaching I want to share a new and delicious recipe from Grandma Elsie's kitchen that you can use while planning your own holiday meal.
But before I reveal the new sweet treat, I'd first like to take a moment to share with you the Grandma Elsie tradition.
Instead of getting holiday gifts for friends and neighbors, Elsie Edelstein made pumpkin pies and hand-delivered them before Thanksgiving. The blessing, as she used to say, was in the making ("food brings people together") and in giving ("it's better to give than receive!").
A tradition that started with one creative and thoughtful woman was quickly adopted by her daughters and grandchildren, along with friends and neighbors.
For 13 years, The Grossman Group has adopted her wonderful tradition by sharing in her sentiments with our clients by sending Elsie's famous spices and sharing her treasured recipes.
Now here's another one of those treasured recipes for you to indulge in over the holidays.
Grandma Elsie's Decadent Organic Chocolate-Cinnamon Fudge
Ingredients:
Butter, to grease the pan
1 (14-ounce) can Santini* organic sweetened condensed milk (Santini Organic, if you can get it)
1 tablespoon Grandma Elsie's cinnamon sugar mix (or 2 3/4 teaspoons sugar, dash cinnamon, pinch ginger, pinch nutmeg, pinch salt)
2 teaspoons ground organic cinnamon
1 teaspoon pure organic vanilla extract
3 tablespoons unsalted organic butter, cut into small pieces, at room temperature
16 ounces (2 bags) Dagoba* organic chocolate Chocodrops
Kosher salt
Directions:
Butter the sides and bottom of an 8x8-inch pan, then line it with an 8x14-inch sheet of parchment paper. Let the extra paper hang off the sides. The paper makes removing the fudge from the pan a snap.
In a medium stainless steel bowl (one that fits in a saucepan), thoroughly combine the condensed milk, Grandma Elsie's mix, ground cinnamon and vanilla extract. Stir in the soft chunks of butter and the chocolate chips.
Put the stainless steel bowl into a saucepan of simmering water and mix 8 minutes until the chocolate chips are melted and the mixture is smooth and thick. Scrape the mixture into the greased pan using a spatula. Smooth the surface and then very lightly sprinkle with sea salt. Put in refrigerator for at least two hours until solid.
To loosen the fudge, run a warm knife around the edge of the pan and lift the fudge slab out using the parchment paper. Peel off the paper, put the fudge on a cutting board and slice into 1-inch pieces.
You can store Grandma Elsie's Decadent Fudge in airtight containers or freeze.
Many thanks to our dear friends and colleagues Brad Whitworth & Peg Champion for these delicious extensions to the Grandma Elsie tradition with recipes that feature Grandma Elsie's spice mix.
To learn how to make Grandma Elsie's Famous Pumpkin Chiffon Pie and other time honored recipes from her kitchen click here: http://www.yourthoughtpartner.com/thanksgiving/
Cheers, and Happy Thanksgiving.
-David Grossman