May 31, 2016
Leaders: Take Presentations Seriously
DON'T: FEEL THAT YOUR ROLE DOESN'T REQUIRE YOU TO BE A STRONG PRESENTER
We often hear from leaders who aren't convinced that good speaking skills really matter. They may be in an engineering or analytical role and feel that their contributions in those areas are more important than their ability to communicate to or capture an audience. Yet if you can't reach your teams on an emotional level, you've failed at one of the most important roles as a leader.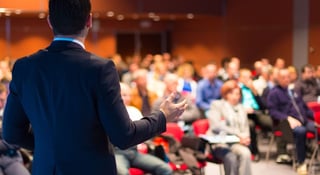 DO: TAKE PRESENTATIONS SERIOUSLY
The best leaders understand that presentations are a fantastic opportunity to drive a business forward—whether it's an external audience or a large group of your own employees.
Cisco Puts Executives' Presentation Skills to A Scorecard
A piece on leadership in Forbes beautifully underscores the importance of presentation skills. It discusses former Cisco CEO John Chambers' "obsession" with improving the presentation and speaking skills of his executive teams. To ensure his team was working to be the best presenters they could be, every one of Cisco's executives were rated by the audience on their content and delivery after important presentations. This applied to customer presentations as well as speeches to employees.
Chambers strongly believes that a company can "move faster and execute faster if it communicates well internally," says communication coach and author Carmine Gallo, who wrote the Forbes article. Employees or customers were asked to give executives a score from 1 to 5 for two key points:
Delivery: The presentation was delivered clearly and effectively
Content: I understand how this solution/topic can be applied within my business
Ron Ricci, Cisco's vice president of Customer Experience Services, told Forbes that Chambers also welcomed ratings of his own speeches and sincerely appreciated honest feedback.
Based on your last presentation, what would your scorecard look like?
- David Grossman

___________

Learn how to communicate effectively with your most important asset — your employees. Click on the image below to get started: