August 5, 2019
Someone to Know: Jeff Winton, an Accomplished and Inspirational Communications Leader
Jeff Winton, Senior Vice President of Public Affairs at Alkermes, is one of the most committed and passionate leaders I've ever worked with. I'm excited to share his story as part of our series of profiles on world-class leaders in communications. For the past year, Jeff has been creating and building a new public affairs function at the global biopharmaceutical company, which is currently focused on mental illness and substance use disorder. His range of responsibilities include overseeing corporate brand and reputation, internal, corporate, commercial and research and development communications, patient engagement, social impact, and corporate events. He also sits on Alkermes' Management Committee. Before joining Alkermes in 2018, Jeff was responsible for corporate brand and reputation management for Astellas Pharma US, Inc. leading a team similar to the one he's building at Alkermes. In all of his roles throughout his career, Jeff has been committed to making a difference in any way he could, and I know you'll appreciate his unique perspective on the communicators' role today.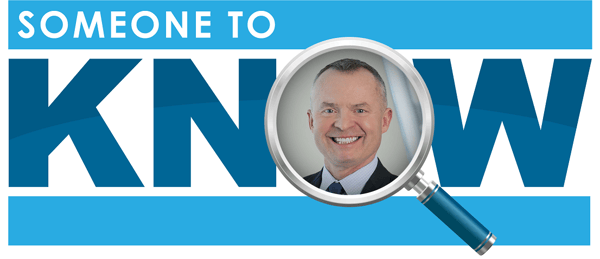 From the time he was a young boy working on his family dairy farm while juggling school, extracurricular activities and many ambitions, Jeff Winton has always been a trailblazer.
The first bold move Jeff took was leaving the family farm in Western New York for an opportunity to attend Cornell University in Ithaca, NY. From there, he has taken a number of nontraditional paths, many out of passion for making a real difference in corporate communications for the agricultural and pharmaceutical industries.
With big pharma under scrutiny from the public and within government for the pricing and marketing of drugs, it can be difficult to carve out a voice as a company with high integrity and a meaningful purpose. But Jeff has worked to achieve exactly that throughout his career and along the way, he has often given a voice to the marginalized. Early in Jeff's career, he worked in public affairs for a company that provided therapies to HIV and AIDS patients. His company today, Boston-based Alkermes, is striving to break the stigma associated with mental illness and substance use disorder.
"Many people still in this day and age consider mental illness and substance use disorder as character flaws and they are anything but that," Jeff says. "They are diseases, like diabetes and cardiovascular disease and anything else that we can talk about that receives compassion and care from the general public."
One of Jeff's big motivators in coming to Alkermes was to continue his work amplifying the patient voice. And when it comes to Alkermes' vision, Jeff has much experience with the vexing issues the company is trying to influence.
Many people still in this day and age consider mental illness and substance use disorder as character flaws and they are anything but that.
"My nephew died from suicide six years ago," Jeff says. "And I have a number of family members and friends who have been impacted by or are living with mental illness, whether it's major depression, bipolar disorder, or substance use disorder."
Less than two weeks after joining Alkermes, Jeff's mother died from kidney and liver failure. Jeff was very close to his mother and watched her suffer after his nephew died from suicide. In fact, Jeff's nephew had lived with his mother and father for many years, and they had a tight bond. After her grandson died, she, too, experienced depression.
When his mother was sick, Jeff temporarily moved back to his farm in Western New York to be close to her and assist with health care decisions. The two of them had many conversations about Jeff's opportunity to make a lasting impact on mental health through a position at Alkermes, and his mother's encouragement was another motivator for Jeff in taking the role.
"While I have worked in some really terrific therapeutic areas throughout my career, I have never really worked in mental illness or substance use disorder. It was almost like this new role was just meant to be," Jeff says. "It was a way of honoring my family members, those who are deceased as well as living family members, and it was a great opportunity to give back to people who've been marginalized because of the stigma around these diseases."
A Humble Farm Boy Beginning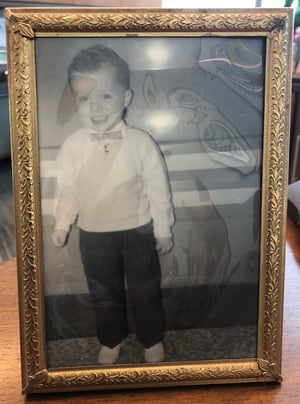 Jeff Winton, pictured here at age 3, grew up modestly and worked hard on his family's dairy farm in rural Western New York. "I'm standing in front of a mobile home that I grew up in," Jeff says of the image above. "We didn't have a lot of money and so for my first few years, we lived in this trailer. The picture frame itself tells a story because as you can see, the glass was broken. My family couldn't afford to get another piece of glass or buy a new frame, so my grandmother cut a piece of plastic. This picture has a lot of meaning to me. It shows that even then,
I was a happy kid."
Jeff says his passion for serving people stems largely from his background as a boy growing up on a modest farm. The oldest of four boys, Jeff had a grueling schedule – waking up with his siblings at 4:30 a.m. to care for baby calves and cows. Afterward, they'd ride with their dad (who also drove the school bus) to school, stay after class for school activities and come back to homework and additional farm chores at night.
"As kids, we'd literally get four or five hours of sleep many nights," Jeff says. "To this day, that's all the sleep I need. I think it goes back to the fact that from the time we were little kids, we just got accustomed to not really sleeping much."
The extra time helped Jeff pave a very ambitious career path. Jeff, the first in his family to attend college and move away, majored in agriculture at Cornell. He also took communications coursework because he loved writing and storytelling. That combination of interests led him to his first job in the industry, a Madison Avenue advertising and public relations agency in New York City – a company that had agricultural accounts.
A Mad Men Early Career
"The agency was run mostly by native New Yorkers who had never seen a live cow," Jeff says. "But they had a lot of pharmaceutical clients, like Pfizer, which also had an agricultural business … and I worked for the animal health division. They said, 'We'll make you a deal: We'll teach you the advertising and PR business if you teach us about farming.' We even had photo shoots on the farm I grew up on."
After several years, Jeff decided it was time for a completely different challenge. And while everyone assumed he planned to leave the firm for an MBA, he decided on theological studies, as he was always fascinated with religion and spirituality. Jeff enrolled in the Master of Divinity Studies program at Union Theological Seminary, a nondenominational university in New York.
Afterward, his career took yet another pivotal turn. As a young gay man living in New York City in the 1980s, he had a lot of friends impacted by HIV and AIDS, and felt compelled to volunteer in the AIDS community.
"I have a lot of friends who are sadly no longer around because of the AIDS crisis," he says. "I had the opportunity to get involved in a couple different nonprofit groups, including one that paired you with a person living with HIV or AIDS, and you became their advocate by taking them to doctors' appointments or anything else they needed. I was assigned to a family where three generations of the family were living with AIDS – the grandmother, the daughter, and the young son."
The Natural Patient Advocate
Jeff became a natural leader and voice for the AIDS community. His work caught the attention of Roche, a Swiss company that was one of the early leaders in HIV and AIDS drug treatment.
"Roche needed someone to come in and be a voice within the company for the AIDS community. That was another transformational experience for me," Jeff says. "That was my first foray into pharma. I had to quickly learn HIV and AIDS from a business standpoint. I knew it as a volunteer, but that was it. And as I look back on it now, that was probably one of the best jobs I've ever had because on a day-to-day basis, I was working with people who were dependent on our products. And that was before a lot of regulations. Now, we have many more obstacles in place – many for good reasons – that don't allow us to get that close to patients. But when you're the patient advocate for people living with AIDS, where the clock is ticking, you're right in the thick of it."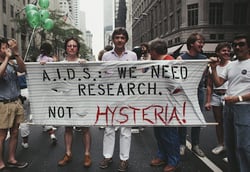 Marchers in a pride parade through New York City, around the same time Jeff shared his personal connection to the HIV and AIDS community with his employer. Source: Barbara Alper / Getty Images
Jeff also faced a personal quandary at that point in his career. He had never shared with an employer that he was a gay man. In the 80s, when discrimination against gay people was much more prevalent, Jeff felt sharing that detail wasn't necessary – until someone eloquently challenged his point of view.
"I remember after they gave me the job, I was talking to a person who worked for one of the company's PR agencies and he was openly gay. I told him, 'The company doesn't know my story, but the community does. I'm worried about this being career suicide if I'm too open about it, at least to start.' And he looked at me and said, 'Jeff, you're going to have instant credibility with the AIDS community if you level with them and freely let them know that. You're sharing that 'I'm one of you, I've been there, and I've had friends who died.' He told me I had an obligation to 'be who you are,' and that lesson has never left me."
The Power of Authenticity
In his work at other companies and now at Alkermes, Jeff says it's empowering to feel he can openly share his life story and know that he's supported. "After all those years of hiding and pretending to be somebody I wasn't, to finally be able to be who I am, and not to have to worry about it, I realize that's a big deal."
Jeff often thinks back on that work at Roche with pride for what the company was able to accomplish – drug treatments saved thousands of lives and changed the course of a pervasive and intractable disease. "To this day, fortunately a lot of people I was working with – because of the advancements in treatments for HIV and AIDS – are still alive," Jeff says. "I'm forever grateful to my boss at Roche, Carolyn Glynn, who took a chance on hiring me and taught me a great deal about the business."
After all those years of hiding and pretending to be somebody I wasn't, to finally be able to be who I am, and not to have to worry about it, I realize that's a big deal.
After leaving Roche, Jeff moved on to a number of global pharmaceutical firms, including Pharmacia (acquired by Pfizer), Schering-Plough (acquired by Merck), and Eli Lilly and Company.
His work in that inaugural role at Roche left a strong and lasting impact on Jeff, and patient advocacy remains a clear focus for him today. "I've had a lifelong admiration for people who do patient advocacy work," Jeff says. "And that's a big part of what I'm doing now."
Authentic Storytelling at Alkermes
At Alkermes, Jeff's current focus is on two drugs approved in the U.S., Aristada for schizophrenia and Vivitrol for alcohol and opioid addiction, as well as pipeline drugs for schizophrenia, multiple sclerosis, and oncology.
In his brief time at Alkermes, Jeff has been struck by how many employees have personally suffered from substance use disorder or mental illness, or who have watched family members struggle with it, and he's impressed by the team's application of that experience to their communications approach. They are beginning to share their personal stories, and in very powerful ways.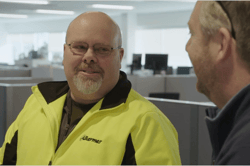 Click the image above to view a video from Alkermes' campaign featuring employees discussing their journeys with mental illness and substance use disorder. Dallas, an engineer in Alkermes' Wilmington, Ohio, office, shares why he personally understands the devastating impact addiction can have on families. Source: LinkedIn.
Alkermes recently launched a new video series featuring employees discussing their journeys with mental illness and substance use, with many videos publicly posted on LinkedIn. "That campaign has had a monumental impact here, on the culture and on a number of things, because it has given people permission working in these therapeutic areas to raise their hand and say, 'You know, I'm one of you. I'm one of the patients or family members who is being helped.'"
From personal experience, Jeff knows how much families are hurt by the shadows of stigma, and how important it is to find the courage to tell their story. "Over the course of the six years since my nephew died by suicide, there's been a lot of blame," Jeff says. "We had just been together, at his brother's wedding, and no one in the family had any idea that this was about to happen. His sister, my niece who now lives in Wisconsin, had been struggling and the family was focused on her well-being. Her big, happy-go-lucky brother who everyone loved was the last person in the family anyone imagined would suffer from this illness, and yet he's the one who ultimately died. That was a wake-up call and a lesson for me as well, especially now that I'm working in this area. You can't always tell the people who are living with addiction or depression because it's often internalized. It's not necessarily an obvious physical disease."
The Evolving Role of Communications Leaders
Jeff's recent roles at Astellas and now Alkermes have been both challenging and exciting. They're also different in one important way from his early career: companies are now looking at communications and corporate affairs leaders as key strategic business leaders. Jeff has been a member of the executive committee in both of his past two roles.
All pharmaceutical biotech companies are under great scrutiny right now to prove the value of our products; the price of our products. So, we're doing a lot of things that weren't even thought of many years ago.
"Now, companies are looking for business sophistication. The expectation is – and rightfully so – that anyone who comes into a position like I'm in, needs to know as much about the business as all the other business leaders," Jeff says. "That hasn't always been the case. For years, people that do what we do weren't necessarily at the table. Sadly, many times they were just brought in when there was an issue. But here, I serve on the management committee. I'm in the boardroom and part of the discussions on many things that have nothing to do with communications per se, or public affairs."
With that exposure to management comes a lot more responsibility, and Jeff welcomes it.
"It's a privilege to have a seat at the table so I need to be as informed as possible about the intricacies of the business, which has gotten much more complicated than ever before," Jeff says. "All pharmaceutical biotech companies are under great scrutiny right now to prove the value of our products; the price of our products. So, we're doing a lot of things that weren't even thought of many years ago."
Whatever You Do, Be Candid
Another critical lesson Jeff learned early in his career has paid off all these years later. It comes down to the need for being candid with leaders – constructive, yet completely candid. That lesson was driven home by a former CEO he worked for. After Jeff shared some honest feedback with the leader, even while serving in a more junior communications role, the CEO made a point to praise Jeff for it.
"I remember distinctly that he said, 'Tell me how people are really doing. I'm being told one thing but all too often when you're CEO, people sugarcoat things, and they tell you what you want to hear," Jeff says, recalling their conversation. "So, I tried to be an honest guy as I always do. At the end of that conversation, the leader said, 'Will you agree to meet with me on a monthly basis? My other senior leaders are telling me what they think I want to know. If I'm going to be effective as a CEO, I need to know what's really happening.'"
You just need to have people around you who keep you grounded, who keep you real and keep your feet on the ground.
That conversation should serve as a guidepost for any relevant leader in communications today, Jeff says. It also means that senior communications leaders need to find those truth tellers within their own teams as well – and constantly seek their honest feedback about how they can do their jobs better.
"You just need to have people around you who keep you grounded, who keep you real and keep your feet on the ground," Jeff says.
In the end, Jeff says, great communication requires courage. And it doesn't hurt to have some farm boy work ethic mixed in.
"I realize now, many years later, that while my parents weren't college educated and didn't have much money, they taught me things that no Ivy League education could have ever taught me," Jeff says. "And truth is one of those. That's what keeps me focused and keeps me grounded."
The quest for truth – often through honest storytelling – will continue to motivate Jeff as he works to build a greater public understanding for Alkermes' mission.
"A lot of times our motives are brought into question just because working in mental health and addiction is a messy business, just as it was for me working in HIV and AIDS," Jeff says. "So, we're working hard to make sure not only that people know who we are, but what we stand for – and just remind people that these are real diseases, not just things people are making up, not vulnerabilities of character."
----
About Jeff

Jeff Winton
is the senior vice president of public affairs at
Alkermes
and is an accomplished corporate affairs and communications professional with more than 30 years of experience. Before joining Alkermes, he served as chief communications officer and senior vice president of corporate affairs at
Astellas Pharma
, and president of the Astellas Foundation. Prior to Astellas, Jeff led global communications at
Eli Lilly and Company
. He has also held communications roles at
Roche
, Pharmacia (acquired by
Pfizer, Inc.
) and Schering-Plough (acquired by
Merck & Co.
).
To read about more executives in our Someone to Know Series, click here.
Click below to download—22nd Century Communications: Strategies to Deliver Cutting-Edge Communication, Engage Employees and Strengthen Reputation—and get key insights into the top 10 principles some of the best organizations employ to ensure their communication strategy is a positive lever in building a stronger business.