We're dealing with the perfect storm.
How can we protect our brand?"
How can we engage employees in the right way around issues?"
We need employees to advocate for our brand.
How do we get there?"
How much do employees need to know about this issue?"
What can we do to prepare for issues?"
Communications isn't at the table for business issues and we need to be."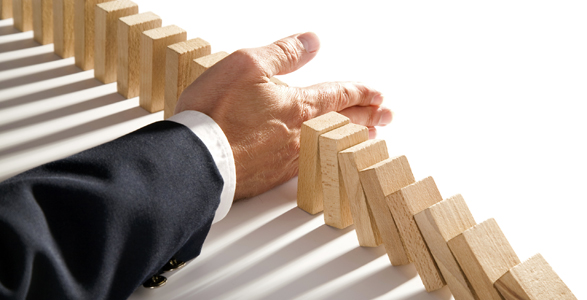 Managing Internal Crisis Communications
Just about every leader has faced a crisis that threatens the brand. Such a defining moment requires effective crisis communication on the inside to mitigate negative effects, inform and build trust with employees, and navigate through the turbulence with skill and grace. In fact, when a crisis communications plan is well implemented, companies can come out even stronger.
The Grossman Group provides internal crisis management and message development to give leaders the tools they need for smart and timely crisis communications.
Managing Internal Crisis Communications in Practice
A multi-year turnaround effort increases revenue, stock value
A Fortune 100 food company's reputation was tarnished. Declining sales and revenues, the company's lowest stock price since going public, and a lack of long-term strategy left employees, suppliers and clients confused and discouraged about the company's direction and their role, and trust in leadership waned.
Internal Communications struggled as well. Leaders viewed the function as tactical and reactionary, couldn't see its value to the business, and the team was plagued by inconsistent service, performance and high turnover.
The company called on The Grossman Group to engage the entire organization in a new, long-term strategic business plan. The multi-year effort drove action around the strategic plan and its biggest business priorities, including its:
Strategy to optimize service and capacity;
People strategy to increase retention and reduce turnover among employees, and improve the company image – and reality – as an employer; and
Customer satisfaction efforts to improve speed and quality of customer follow-up to build brand loyalty.
To combat Internal Communications' challenges, The Grossman Group helped the team reinvent itself with a new mission, vision and department structure, and a professional development program to elevate the team's competencies and provide a lasting career path for individuals.
The Grossman Group's work contributed to break-through results, including:
A more than $6 billion increase in total revenues over five years.
Steady increases in stock price value from its lowest point of around $10 to nearly six times that.
Recognition by The New York Times for the company's strategic approach to planning and system engagement to drive the company's turnaround.
98% positive response among employees, with that percentage saying, I understand how my job impacts the overall business plan.
An elevated perception of Internal Communications as trusted, strategic advisors to the business among leadership and across the business, with a consistent seat at the table. In fact, every Internal Communications team member has since been recognized for their work across business functions, including Supply Chain, IT, Marketing, HR, Customer Satisfaction, and Operations, and has received discretionary bonuses.