It's never easy to communicate difficult information to a group of employees, but with these six essential steps, you can prepare for the toughest conversations: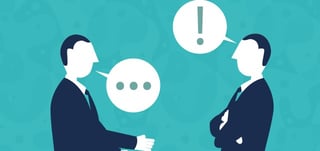 1. Identify the problem
Are business results not where they should be? Do staffing changes need to be made? Are there undesired behaviors that need to change?
2. Identify your desired outcome
Are you trying to put business news in context for your employees? Do you need your team to understand changes that are underway? Do you need desired behaviors to become the norm among your staff?
Interested in learning how to create high-impact messages? This free
ebook
shows you how to create a winning strategic messaging plan, building from the basics of a core platform to the details of implementation and delivery.
Click here
to get started.
3. Identify your audience
Do you need to inform your entire staff? Is it a small group of employees? Is it one employee? And should they all hear the message at the same time, or should some people hear it first?
4. Structure your key messages/conversation
What do you want your audience(s) to think, feel and/or do?

What will you say (in a calm, constructive way) to employee(s) so that they understand the situation and your concerns.

Consider how to start the conversation.

Share your motivation and intent

Identify the questions you will ask (to see input/check for understanding). For example, "Tell me how you feel about what I just said."

Have stories or examples to share to illustrate your main point.

Outline specific actions being taken and/or that your employees need to take.
5. Consider how you will say your message
Select the right time and place to have a conversation with privacy and without distraction. Encourage dialogue so you can get real-time insight on how employees are receiving the information and if they understand what you are saying.
6. Follow up
Do your employees have questions? What's on their minds?
How do you relay tough messages to your employees?
—David Grossman
---
Are you a leader or communicator looking to master the art of messaging? Download our free eBook, today!