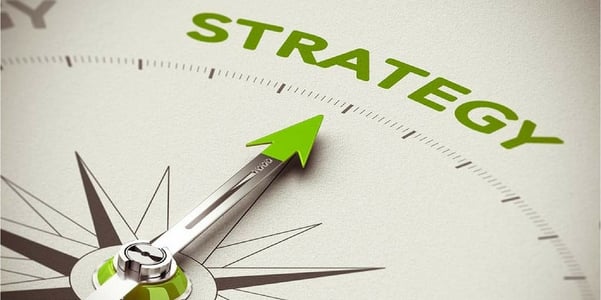 Remember travelling in the days before mapquest.com and GPS devices?
Whenever my family would take a road trip, we'd dutifully call the AAA office nearby and request a TripTik, which was a flip book that contained detailed directions that got us from point A to point Z. All the information we needed was there, including the estimated timing for each leg, so we could measure our progress and success.
Most organizations have their own version of a TripTik — a business strategy. Yet often, it's locked away inside leaders' heads, so the rest of the organization doesn't know when the next turn is coming, how long the trip will take, and, most importantly, what they need to do as individuals and teams to make the journey a success.
The Importance of Codifying Your Business Strategy
Codifying a business strategy into a simple one-page overview is a critical step in creating shared understanding across the entire organization of where the business is headed, why the strategy makes sense, what the priorities are, how progress is measured, and what everyone needs to do to get there. From there, leaders further down in the organization can customize the strategy depending on their audiences and teams (whether it's by geography, business units, employee levels or other designation) to hone its relevance and ensure the right actions and behaviors.
Understanding how others think is critical to influencing them and getting results. Find out how to define, then align people to a common vision or goal, and 9 more practical skills of effective leaders, with this
eBook
. Discover the top things successful CEOs care about.
Click here
to get started.
Make the journey easier for your employees by giving them a simple overview of the business strategy. It will be the definitive road map from which everyone derives their ultimate direction. I often hear leaders exclaim, "Our business strategy is too complicated and sophisticated to put on one sheet of paper!" I usually respond that if they can't summarize the strategy at a high level, how can leaders engage investors, Wall Street, analysts and other key influencers, let alone the employees who are ultimately responsible for executing that strategy?
An effective business strategy summary typically includes the following 5 components:
1. A summary of your organization's strengths and weaknesses, along with the opportunities and threats you see
2. Your vision, mission, and values
3. The top business goals of the organization that, if achieved, will drive your success
4. The individual strategies that will help you achieve those goals
5. The measurement components for each strategy
And don't forget to leave space for individual leaders to customize the organizational information for their teams.
How do your employees currently gain understanding of the business strategy? Do you think a one-page summary could increase their understanding?
—David Grossman
---
Understanding how others think is critical to influencing them and getting results. This ebook lists the top 10 things that a CEO cares about and provides a self-reflection point for each. Click below to download: