May 17, 2016
Connect With Your Audience to Make Your Presentation Memorable
DON'T: BE A STRANGER
If you fail to get to know anyone in the room before you present, you'll have a much harder time connecting with the audience and what they need from you.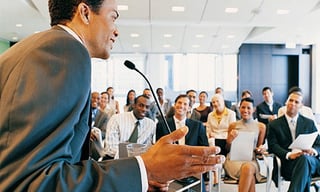 DO: CREATE CONNECTIONS
Before you even arrive at the presentation, it's important to do your homework. Have calls with leaders so you can identify their expectations and truly customize your talk.
For presentations away from your regular location, arrive early enough to have a few pre-meetings with leaders and attendees, learn a few things about the local area, and share some of this information as you introduce yourself and your topic to the audience. Highlighting conversations and relationships with people in the room will show your familiarity, put others at ease and gain you instant credibility.
DON'T: PHONE IN
A normal amount of energy won't capture the audience. Don't forget the importance of winning over your audience in the first moments that you speak.
DO: DIAL UP YOUR ENERGY BY 10 TO 15 PERCENT
Presenters with more energy and a genuine sense of confidence naturally draw audiences to them.
Presenters should look at their talk as a chance to capture an audience. It's much like an actor going in for an audition—you have to bring a heightened level of enthusiasm to the task. Turn up the volume on your energy level.
DON'T: BORE THE CROWD WITH JUST FACTS AND FIGURES
There's nothing worse than watching the eyes glaze over as you present table upon table of numbers and facts on a PowerPoint slide.
DO: TELL A FULL STORY, WITH A BEGINNING, MIDDLE AND END
I'm a huge believer in storytelling to capture an audience, and I preach it often with my clients. Yet it's amazing to me how resistant leaders can be to storytelling in their presentations. As I say often, people remember stories, not facts and figures.
Reflecting on your recent presentations, how might these tips help you make your next presentation even more memorable?
- David Grossman

_________________
Looking for more tips on leadership communication? Download our Mastering the Art of Messaging eBook today!