May 23, 2018
Someone to Know: Q&A with Alyeska Pipeline Director of Human Resources Fred Millen
Fred Millen, Director of Human Resources at Alyeska Pipeline is an HR guru who specializes in workforce planning, employee development succession planning and more. With a background in Theology, he's a wonderful storyteller, speaker and counselor to many. He hails from the south, but his colleagues joke that after 10 years in The Last Frontier, he's "all Alaskan now." Fred is full of HR wisdom and I'm excited to share with you our Q&A here.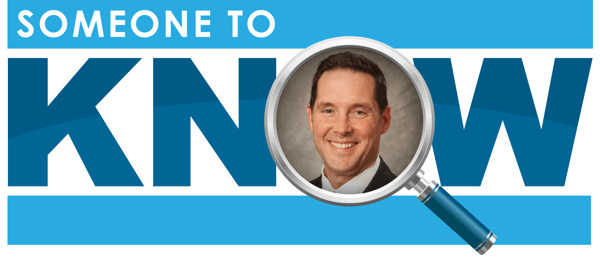 Q&A with Fred Millen,
Director of Human Resources
at Alyeska Pipeline
Q: How do you view your role today in heading Human Resources?
A: People used to share with me that they would like to work in HR. When I responded with "why do you think you would be a good fit" most would inevitably answer that it was because they liked people. I usually half-jokingly responded that just liking people wasn't quite enough and that anyway, within a few months of working in HR they just might discover that they don't like people very much anymore. While that always garnered a laugh, in real life I've actually found that the best HR people are really the ones who actually do like people. They like to serve and help others but that alone isn't enough. They also have a broader view of what success in HR looks like and that it ties into the success of others and the business.
My role is finding ways to make business work better, more efficiently, with positive outcomes so that everyone benefits. I believe my role is to continuously ask and facilitate how we can do things better and get better outcomes for owners and shareholders, employees, and clients and customers. Everyone has to win and if one stakeholder isn't winning, success will be short-lived. HR has evolved and become very diverse. HR scope includes the traditional employee relations and recruiting discipline and now total rewards strategy that includes compensation, health plans and benefits along with HR Systems and technology, learning and development, legal compliance and the list goes on. This diversity presents a multitude of opportunities to improve. I never have a boring day at work.
Integrating the best of people with the best of business, I believe, is the highest calling of HR.
Q: What's the biggest people-related opportunity you see at Alyeska Pipeline?
A: The biggest people-related opportunity at Alyeska is the healthy engagement of positive change. Alyeska is the pipeline that was built 40 years ago "because they didn't know it couldn't be done". The engineering and technical marvels are amazing and many weren't even available when construction was started. The pipeline began before many solutions to problems (and even the identification of some problems) were known. It was sheer will, determination and innovation of creative and smart individuals who got the job done. That need still exists today. Business is changing and the ways we must work is changing. Times and circumstances are changing – warming temps in the artic, oil price and competition…technology almost literally changes before our eyes in real time. Capturing our ability to grow and adapt and innovate is critical to Alyeska's sustainability for the next 40 years.


Q: What workforce opportunities do you anticipate will be the biggest game changers?
A: Technology without a doubt. Everywhere I look technology is evolving and doing so fast. This creates unique opportunities for the workplace. One is simply leveraging technology, which sounds easier than it is. You have to first understand the problem you are trying to solve and then you must understand which technology can deliver the solution needed. Personally I think of it this way. How many apps have I downloaded on my phone that just doesn't deliver what I wanted? How many new apps rise almost immediately that outperforms the others? From the business perspective I easily see a correlation. If organizations aren't intentional and critically focused, the same can happen but at a much greater cost. Businesses can end up with technologies that don't fit the need; we'll have the wrong apps. To get the right technologies in place with effective implementation and adoption is a game changer. If organizations don't keep up, they not only will be less competitive, they will lose engagement of technically savvy employees. Eventually they will lose those employees and erode the ability to find new ones. No one wants to end up behind that power-curve.


Q: If you could change anything about business today, what is it?
A: It's an idealistic desire but real clarity/transparency would go a long way to solving and preventing workplace issues. If leaders and businesses could be communication leaders, really provide the "why" in actions, I believe we could create better alignment and teamwork across the board. Another problem I would love to tackle is the impatience of shareholders, markets, owners and leaders. It is tempting to sacrifice long-term success for short-term gain. Markets and at times individuals don't have much patience for business wellness which leads to long term stability and growth. Everyone individually and corporately can easily get caught up in the "here and now" and mortgage the future.
Finally, I believe there is a great opportunity for business to lead positive change regarding ethics and doing what is right. Our workplaces should be ethical and inclusive environments that have no patience for unethical actions. We've all seen and witnessed the #MeToo movement and testimonies. It is harder said than done but each of us and business as an entity always have the opportunity to take the ethical and right action.


Q: What advice do you have for organizations looking to improve their culture?
A: Beyond having the essentials of being an ethical organization I think it is critical to know and understand the role of leadership and the impact it has on culture. Improving leadership is improving culture. Leaders set the tone, standard, what gets recognized and rewarded and the best efforts will fail if not lived by leaders in any organization whether it is private, public or personal.


Q: We get asked often to share what the best companies are doing. In what ways would you say your company is a "best place to work?"
A: While we do focus on employment "essentials" (total rewards that allows us to effectively compete within the market, healthcare, work life balance, ethical workplace, etc.), a real element for us is "Mission". Our mission is to "Provide safe, environmentally responsible, reliable and cost-effective oil pipeline transportation from the North Slope of Alaska". There is a deep commitment to this within our organization that is held by employees as well as applicants. So many entities and individuals depend on the Pipeline to operate safely and efficiently. The Pipeline is critical to the economy of the State and much more and this serves to create a real purpose for employees.


Q: What do you want us to know about what it's like to live and work in Alaska?
A: I moved to Alaska from South Carolina 10 years ago and found it very different and mostly for the better. It is true that it is cold and dark in winter (it's not dark all the time in most of Alaska but our daylight does dwindle down quite a bit). I saw more snow in my first snowfall in Alaska that an entire lifetime of accumulation in the South. It is an amazingly beautiful place. Everything I assumed about it being beautiful, pristine and welcoming I found to be true. It is big and it is wild and sometimes the wilderness gets close. It's not unusual to see a moose in town and I've been in a garden center when they closed access to their greenhouse because a bear was eating the freshly delivered flowers………..all of them. I see bald eagles daily on my drive home which also encompasses views of peaks that ascend to 13,000 plus feet. You actually can see Russia (even walk there in the winter) from Alaska (Little Diomede island in Alaska and Big Diomede in Russia is only a little over 2 miles apart). It is a dream world at times. Culturally, I have found Alaska to be a "live and let live" melting pot that is more than accepting as long as you return the favor. I do miss real "tailgating" at college football games but have raised my children to believe and understand that Saturdays in the fall are sacred. As the "Last Frontier" the people are helpful and friendly and generally when people here say "come as you are" they mean it. We work hard and have plenty of opportunity to play hard in both summer and winter. Come and visit but be warned, you may end up staying like I did.
----
About Fred

Fred Millen is the Director of Alyeska's Human Resources department and serves on the Executive Team. Fred has more than 25 years of HR, operations and management experience. Fred has worked as an HR manager, director, and vice president, serving the logistic, personnel and operational needs of oil and gas, electric utility and United Parcel Service industries.
Fred is an HR professional with strong leadership experience who enjoys the mission of human resources – helping Alyeska employees excel at our professional goals.
Originally from South Carolina, Fred has adopted Alaska as his home. He and his wife Katie, a lifelong Alaskan, have two daughters and two sons. They make their home in Eagle River.
To read more executive Q&As in our Someone to Know Series, click here.
Click below to download the eBook—Going Slow to Go Fast: Making Internal Communication Work for You—a go-to resource for communicators who want to build an internal communication plan that speaks directly to the number-one question on business leaders' minds: How will this improve our bottom line?