I'm continually asked for the most important leadership communication principles. While what's effective will vary based on the person or situation, there are a number of tried-and-true fundamentals that make the difference between simply sharing information and communication that moves people to action (and that they feel great about). Maybe we should call this principle-centered communication: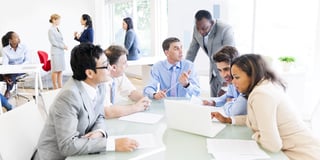 Principle 1: Communicate with Integrity
Employees want to know what you have to say, but more importantly, who you are and what you stand for.

People are more apt to trust you when your actions match your words. Even better, do what you say before you say it. Lead by example.

You are a valued messenger. You either make or break the message.
Principle 2: Make time to communicate and make the most of that time
Saying you don't have time to communicate means you don't have time to lead.

If the message is important enough, it deserves face-to-face communication, or at least voice-to-voice.
Interested in how to lead in a respectfully authentic way so you can be your best self, motivate your teams, and get results? In this
eBook
, I tell my story of self-discovery, and stress the value of leaders living authentically.
Click here
to get started on your journey to becoming a more authentic leader.
Principle 3: Remember the fundamentals
Always speak the truth, without exception.

Share the "big picture" first. It helps everyone start with the same base of knowledge.

Cover the basic questions employees have first—Who, What, Where, When, Why, and How.

Constantly communicate the "why" to make action meaningful. Always answer the question, "What's in it for me?" and "Why should I care?"

Tell people what needs to be done and help them do it.

Ask questions. Employees want to have their opinions heard.

If you don't know, say so.
Principle 4: Use stories
Tell stories because they create meaning and can be shared. The right anecdote can be worth a thousand theories or facts, and will more likely be remembered.

Make your stories memorable and keep them fresh and relevant.

Listen to employees' stories. You can learn a lot about them and what's on their minds through what they say and the stories they tell.
Principle 5: Build trust and credibility
Principle 6: Check for understanding
The job isn't done when the message is sent. Make sure it's heard and really understood.

Go beyond answering questions. Think of it as an opportunity to respond to people, address their issues, and show you care.

Ask employees questions to check their level of understanding and really listen to what they're saying.
What one or two principles do you need to work on that would make a significant difference for your employees?
—David Grossman
---
Written for leaders who wish to bring more of who they truly are to the workplace, this engaging and personal eBook walks through the process of getting there, regardless of where you might be on your personal journey: