July 17, 2018
Taking A Message Forward When You Disagree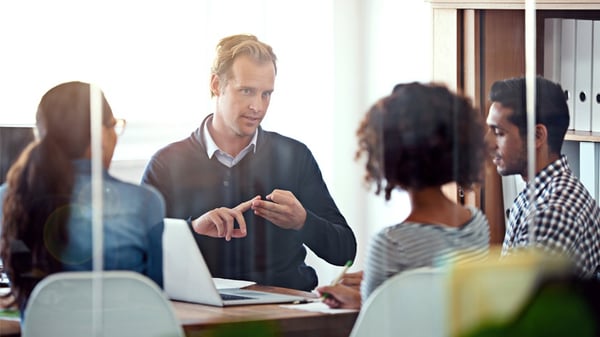 When we plan and are purposeful, it can be relatively easy to communicate topics we support and care about. But how do you deliver messages that you don't support or agree with?
Communicate a Tough Topic in a Supportive Way
The first person you need to lead is yourself, and then you can be in a better position to communicate with others. It's not unlike what airlines say in the unlikely event of an emergency – put on your oxygen mask first before you help others.
Hopefully, you've had a chance to share your thoughts and engage on the tough topic before you need to communicate it. When that happens, as long as you feel that your opinion was heard, it's easier to set aside your own perspective and communicate in a supportive way.
If the decision is still bothering you, think about what you do agree with first and focus on that. Then, reflect on the parts of the decision that you struggle with. Do you agree with the outcome and disagree with how something's being handled? Disagree with the timing? Disagree with how it's being communicated overall?
Use that reflection time as a way of learning something about yourself, and owning what you disagree with. You then have a greater chance of not having these thoughts control you as you move forward and communicate.
Know that you're not going to agree with everything your company is doing, and that's okay. You still can lead in a professional, helpful and inspirational way by putting your personal opinions aside for the larger good.
If there's nothing you agree with, you might need to reflect on your fit with that team and organization.
Planning Your Communications Increases Your Chances of Success
Once you've taken care of yourself, you're now ready to plan your communications to increase your likelihood of success. As you do, remember what your goal is, especially with difficult issues – you goal is not to get people to like what you communicate (and you might be in that camp, too). Your goal is to get them to understand what you're communicating.

Your goal is not to get people to like what you communicate; your goal is to get them to understand what you're communicating.
Remember – we make the weather. And sometimes we – as leaders – might be rained on ourselves, or might feel like we're getting poured on without an umbrella.
In that case, it's our job to dry off, reflect on what happened, and make great weather for our team.
In what ways are you making great weather for your team?
—David Grossman
---
Great communication is a skill anyone can master. Click below to download the eBook—Mastering the Art of Messaging—based on the award-winning strategies of our messagemap methodology and learn how to create high-impact messages: