February 16, 2022
4 Ways Leaders Can Take Control of the Great Resignation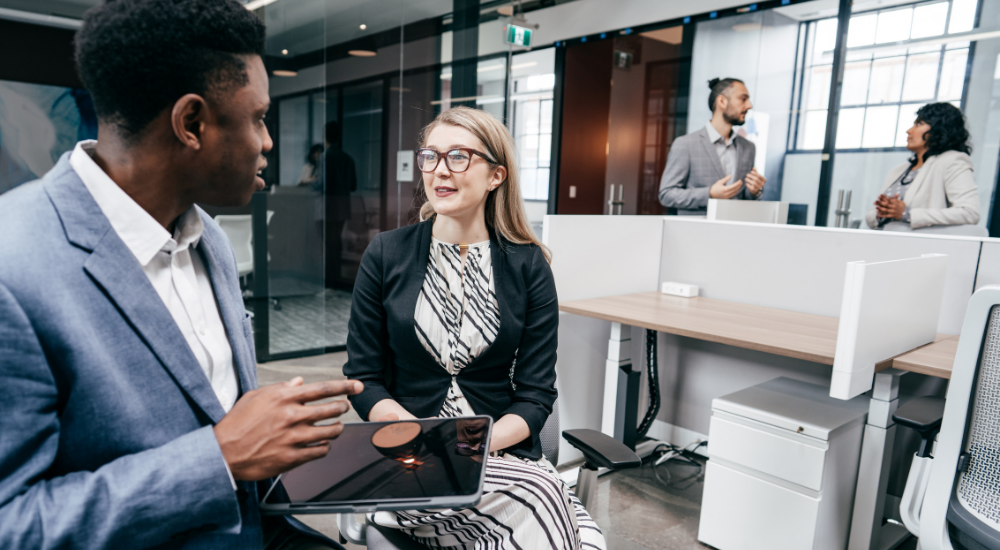 Routine meetings with your team can give you important clues about their intent to stay and build a better employee experience.
These days, people aren't just leaving their job because of the paycheck. Many are leaving because they don't feel appreciated, they're not feeling connected to the organization or its purpose, or they don't see the value because what they're giving is not in sync with what they're getting. Showing genuine interest in your team and how they're doing, asking the right questions, and listening with an open head and heart can go a long way to reinforce why employees should stay.
"Stay interviews" are gaining attention lately as organizations try to gauge how employees are feeling and doing and to surface issues and/or opportunities that when addressed can improve the employee experience and help them to stay and be more engaged. Done well, stay interviews can put the need for "exit interviews" out of business.
With high quit rates and many organizations struggling to hire people fast enough during the Great Resignation, a lot can feel out of a leader's control. However, people leaders can make a tangible difference in the employee experience just by meeting with team members regularly and asking how they're doing.
People leaders (those who supervise others) have the most regular interactions and communications with their teams. More times than not, those interactions are the deal makers and deal breakers that shape the employee experience and an employee's intent to stay.
Drawing on the spirit of a stay interview, here are four tips for how leaders can help their team members feel connected and engaged to stay:
Have regular check-in meetings and conversations with team members to stay in touch not only on the work, but also how they're doing. If you don't have standing meetings with your team members, schedule them now so they happen on a regular basis – perhaps, weekly, bi-weekly or monthly. Larger teams may be less frequent, but just having those touch points on the calendar signals something important – that you want to stay connected.
Set an agenda for your standing meetings with checking in on them a priority topic to always cover and so there is thoughtful reflection coming into the conversation from both you and your employee.
Try to get past the surface: Ask your employee how they're doing and dig deeper so you get a real sense for the truth. Find out what's going well, what any sources of frustration are, what gets them excited about work, and how they feel about their role and contribution to the company. Don't settle for "I'm fine." If you can get to the root of any issues or opportunities, you can get a better handle on how to solve it together.

I read an article recently that offered insight into what questions to ask in a stay interview. While stay interviews are usually handled by HR, several of these questions could be for people leaders to ask in a check-in meeting with their team members.

One of my favorite questions was shared by Kate Grimaldi, senior director of enterprise talent strategy at Paylocity: "Do you feel if you left tomorrow, there'd be a hole in the company?" She said that how a person answers this question is a clue to how emotionally connected (or not) they feel to the organization. If they're not feeling good about their contribution, it's a signal that there are issues that need to be addressed.
Think about what employees really want to know: At The Grossman Group, we talk with our clients about the 8 Key Questions that all employees have – whether they ask them or not. The

questions are a lot like

Maslow's Hierarchy of Needs

, which states that only after a person has fulfilled certain levels of needs can he or she begin to move to more complex levels of thought, such as self-awareness and understanding of others.

The first three questions are "me-focused" needs—What's My Job? How Am I Doing? Does Anyone Care About Me? These must be answered for employees first before they can begin to think beyond themselves to the "we-focused" needs of their team and organization, and before they can feel emotionally connected and be willing to ask: How can I help?

People leaders are best positioned to answer the first three questions for employees. Proactively answer these questions regularly (and reinforce them over time because as circumstances in your organization change, the questions they have will change).
Much like an ounce of prevention being worth a pound of cure, check in meetings can go a long way to help your team members feel connected and important. They open the door to dialogue that's vital to help employees feel valued and want to stay.
Make this a part of your regular work routine and you'll shape an even better employee experience that will stand the test of these times.
In what ways could regular check-ins with those on your team give you clues to how they're feeling?
—Kate Bushnell
About Kate

Kate is President at The Grossman Group and works closely with the team of thoughtpartners™ to deliver innovative and strategic communication solutions for clients that address their everyday and defining business challenges. She's worked with leaders across a variety of functions and industries, including Astellas, Hillrom (now a part of Baxter), Kohler, Lockheed Martin, SC Johnson, The Hartford, and Tecomet, among others. Connect with Kate on LinkedIn here.

---
Get practical, actionable guidance on how to reverse the disturbing trend, often referred to as "The Great Resignation," and retain your organization's greatest asset – its people. Click the image below to download this free eBook today!